Oslo Pride: Marchers refuse to bow to hate
Despite the official cancellation of Oslo Pride events, LGBTIQ+ Norwegians defiantly took to the streets to march in the wake of Saturday's deadly gay bar shooting.
Oslo Pride was cancelled just hours before it was set to place, on the recommendation of the police. The organisers called on "anyone who had planned to participate in or watch the parade, not to show up."
The move was in response to the early morning horror attack on revellers in and around the London Pub, a popular gay nightclub and bar in the centre of the Norwegian capital.
Two men in their 50s and 60s lost their lives while 21 were injured; ten were said to be in a serious condition. A lone gunman, now identified as 42-year-old Zaniar Matapour, was arrested for the attack.
Ignoring the call to stay home, hundreds of LGBTIQ+ people and allies refused to allow hate to triumph and came out for what was called a "spontaneous" Pride march.
Reaching the site of the shooting, the marchers gathered around a sea of flowers and rainbow flags placed on the pavement in memory of those who lost their lives and were injured by the gunman.
"I believe it was important to march in solidarity. To march for the lives lost, not only in Norway but all over the world. I think it was important to show that love is so much stronger than hate," Anna Riksaasen, one of the participants, told MambaOnline.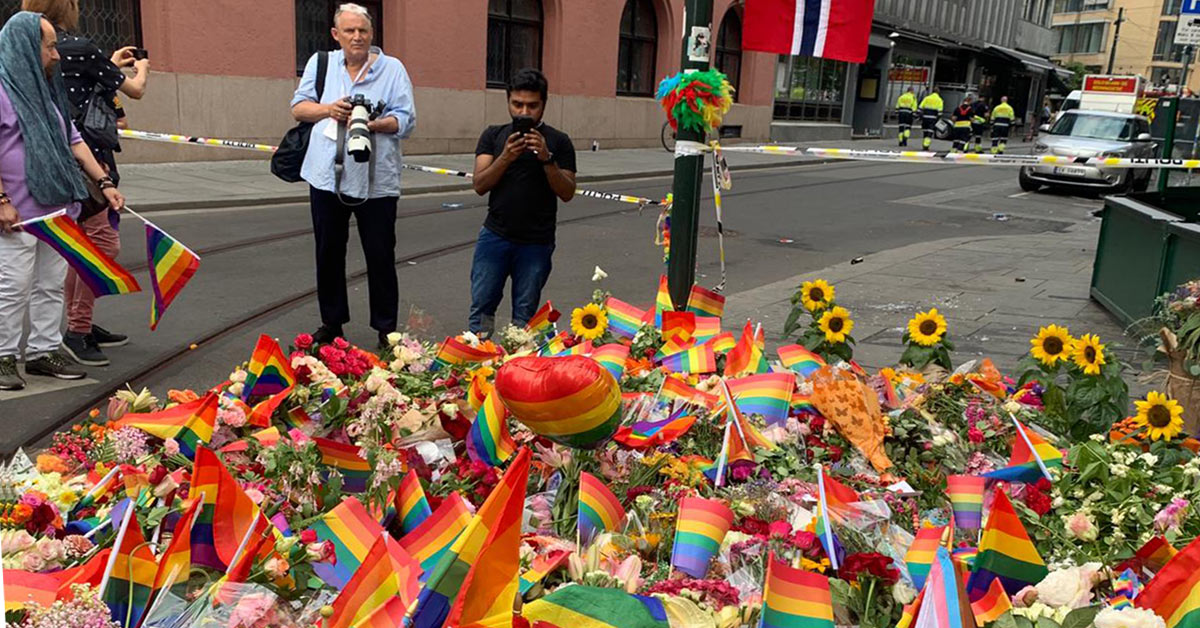 "When the official parade was cancelled, all the commercial elements of Pride went away and it became the very core of why we march in the parade; the fight for human rights," she said.
"I heard many of the older gays saying that this is how it was the first few years of Pride. It was just walking and using our voices. It was amazing. Amid hate and pain, we stood up again," Riksaasen asserted.
Matapour has been charged with murder, attempted murder and terrorist acts. Police said he was known to them and that Matapour had a criminal record for less serious crimes. Concerns have previously been raised about his mental health.