Uganda anti-LGBTIQ+ bill protests for Pretoria and Cape Town
Here's your opportunity to take a stand! Pretoria and Cape Town will be the sites of protests this Friday against Uganda's Anti-Homosexuality Bill.
A collective of South African and regional civil society groups are collaborating in a united campaign opposing the horrific legislation passed by Uganda's Parliament which is now awaiting the signature of President Yoweri Museveni.
In addition to issuing a joint statement initiated by Access Chapter 2 (AC2) condemning the bill last week, protest action will also take place on Friday 31 March in two cities.
In Pretoria, a picket will be held outside the United Nations information office from 9.00. In Cape Town, protestors will march from the Cape Peninsula University of Technology from 9:00 to Parliament. Memoranda will be handed to representatives of Parliament and the UN.
"We have a twin focus," explains Mpho Buntse, Spokesperson and Communications Associate for AQC2.
"First, the South African Parliament through its National Assembly Speaker, who by virtue of the office, will hopefully trickle the matter down to a possible debate on the bill, and to then to the Presidency. Secondly, the UN, for world leaders to call out the Bill and to impose sanctions where necessary," says Buntse.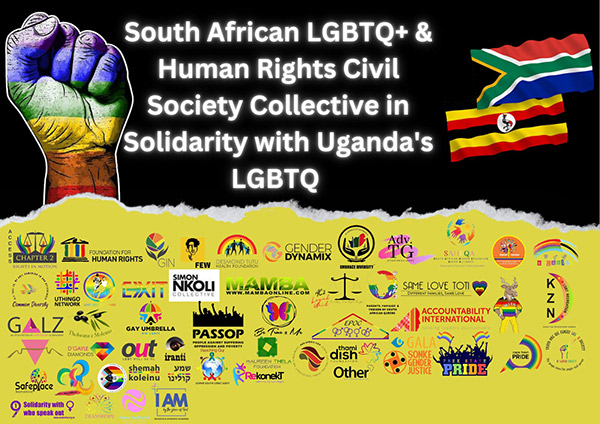 In their earlier statement, the collective called on President Cyril Ramaphosa to "demonstrate political will by engaging his Ugandan counterpart to use his veto power to reject the Bill".
The groups also noted that "South Africa has a reputation of being a bystander when it concerns LGBTQ+ equality on the African continent".
The South African government and the ANC ruling party have yet to speak out against the Ugandan Bill, which will impose the death penalty for "aggravated homosexuality", among other appalling penalties.
The collective has also urged world leaders and the United Nations "to appeal to President Museveni to not sign this Bill," adding that they "will be justified in sanctioning Uganda for its deliberate abuse of human rights".
The LGBTIQ+ community and its allies in Gauteng and the Western Cape are urged to join the protests to add their voice to the global outrage against the Ugandan Bill.
PROTEST DETAILS
Pretoria
Date: Friday 31 March 2023
Event: A picket
Time: 9:00
Location: United Nations Information Centre, 351 Francis Baard St, Pretoria Central
There will be several transport pick-up points:
• Ekhuruleni (including Katlehong, Thokoza and Voslorus) – contact Banyana on 067 672 9658
• Soweto, Johannesburg and Midrand – contact Penpeni on 078 132 2909
• West Rand – Tumi on o84 010 4853
• Vaal – Sidwel on 071 974 4477
Cape Town
Date: Friday 31 March 2023
Event: A march
Time: 9:00
Location: Meet at Cape Peninsula University of Technology D6 Campus, marching to Parliament