2018 Feather Awards: Vote for best LGBTQ media!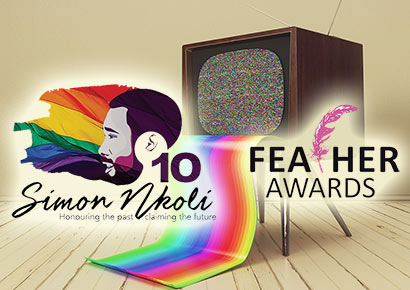 The 10th annual Feather Awards will be honouring the best LGBTQ and LGBTQ affirming celebrities, activists and public figures. In the category of Best Media, you, the public, have been asked to cast your vote!
The Media of the Year category acknowledges those platforms that support, encourage and reinforce the positive image and identity of our community.
In 2018, ten nominees have been selected:
THRILLS WITH DR T: This sexual health edutainment talk show opens the floor to candid sexual education, hosted by celebrity sex therapist and activist Dr Tlaleng.
GAYSA RADIO: Celebrating its third year this October, this is Africa's only LGBTQ online radio station that provides content that is entertaining, engaging and representative.
LIVING THE DREAM WITH SOMIZI: Three seasons in and we're still obsessed with Somgaga's epic lifestyle on one of Mzansi Magic's leading reality shows.
FERSUGON FILMS: This production company has been acknowledged for creating authentic characters over the years in shows like The Queen, The Gift and Rockville, that reflect the society that we live in.
TOUCH HD ONLINE: This online radio station continues to provide innovative, fresh and groundbreaking entertainment programmes.
ENCA: Focusing on South African and African stories, the continent's first 24-hour news service has positively explored numerous LGBTQ issues.
REAL GOBOZA: SABC 1's authoritative celebrity lifestyle and pop culture magazine show has never failed to disappoint.
DAILY & SUNDAY SUN: Like it or not, this tabloid remains the most bankable newspaper in South Africa and often covers LGBTQ stories.
FRESH BREAKFAST SHOW – METRO: Weekday mornings will never be the same again thanks to this popular breakfast show hosted by DJ Fresh, Somizi Mhlongo, sports aficionado Mpho Maboi and news head Angie Khumalo.
MAIL & GUARDIAN: SA's leading weekly newspaper is known for its strong political analysis, investigative reports and progressive stance towards LGBTQ issues.
Vote for your favourite Feather Awards Media of the Year nominee below (voting limited to once a day).