ANTI GAY TV KISS FACEBOOK GROUP GROWS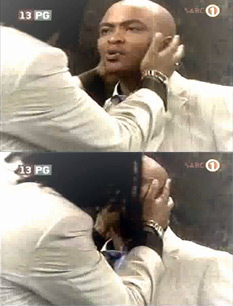 A Facebook group protesting a kiss between two male characters last week on the popular South African soap, Generations, has over 18,000 members.
Titled, "We will stop watching Generations if Senzo and Jason continue kissing", the group's description reads: "we are not saying it is bad to be a gay but do not show it on tv, where everyone is watching."
The September 1st kiss between the characters of Senzo (Thami Mngqolo) and Jason (Zolisa Xaluva) on SABC 1 also drew criticism from gay viewers for being pre-empted by an on-screen warning that the episode could include scenes that could "offend" some viewers.
The majority of comments on the Facebook group are openly homophobic with many members questioning the appropriateness of the scene for younger viewers.
One member, Bongi, writes, "Accepting that some people are gays and lesbians is another thing, but watching them on our beloved TV soapies is very disappointing. The awareness the script writers are talking about wont work, instead it will damage the values tht we instill on our kids. Please Mr Mfundi Mvundla, watching gays kissing is disgusting…"
On his blog, YFM DJ Sbu (Sibusiso Leope) expressed his support for the kiss being shown:
"Couples, gay or straight kiss, and if we can stomach a Brokeback Mountain scene, surely we shouldn't be oohing and aahing if a more modest version is brought to our back yards. There is a gay community yires, so let's rather deal with it because it's not going anywhere!!"
Christina Engela, from the South African Gay & Lesbian Alliance Against Defamation (SA GLAAD), called on people to report the homophobic group to Facebook and to the SA Human Rights Commission.
An opposing group called, "We will continue watching Generations", has been set up, stating that "There is nothing wrong in showing anything that is protected by SA bill of rights. Generations reflected on what is happening in our society." It has just over 30 members.
Generations, created by Mfundi Vundla and first aired in February 1994, is the most popular locally produced soap in South Africa.