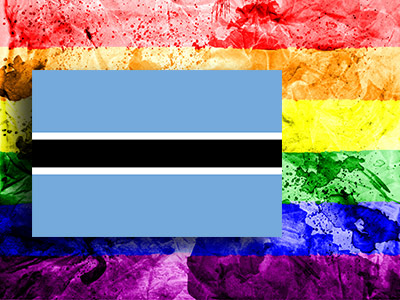 In a shocking and unexpected move, it appears that the Botswana government is set to ramp up the persecution of gay men and other men who have sex with men (MSM).
Human rights group Botswana Network on Ethics, Law and HIV/AIDS (BONELA) has angrily denounced sections of the government's new draft HIV "Strategies to Address Key Populations".
According to BONELA, the document states that the government has agreed that police and immigration authorities will "arrest" local MSM and sex workers and "deport and evoke permits" of foreigners – with the authorities "even availing themselves over weekends" to enforce the crackdown.
BONELA also accused the government of duping it into working with the health ministry on an HIV survey of MSM, female sex workers (FSW), and people who inject drugs (PWID).
"We celebrated when government undertook the study" said the organisation. "We accordingly collaborated with nested organisations and mobilised our members in the sex work and men who have sex with other men community to take part in the survey in the belief that the government will use the findings to create an inclusive and accommodative environment.
"The Botswana government has now done what is totally unexpected and deviated from the study findings by taking punitive, discriminatory, homophobic and xenophobic measures," said Bonela.
"That is unethical!" it added, accusing the government of having told it that the study would be used to back "the rights of these groups".
BONELA warned that if the government pursued its discriminatory strategy this would only increase stigma and discrimination; widely acknowledged as key drivers of the HIV epidemic.
"It is our belief that doing this will reverse the gains made thus far as key populations will go further into hiding, making access and utility to health services impossible," said the group.
Homosexuality can be prosecuted under Section 164 of the Penal Code that bars "carnal knowledge of any person against the order of nature," with penalties including seven years in prison.
In 2011, LGBTI rights group Lesbians, Gays and Bisexuals of Botswana (LEGABIBO) launched a lawsuit against the Botswana government in a bid to have Section 164 declared unconstitutional.
It later suspended the suit saying that it needed to gather more support and evidence for its case, but that it would resume its action as soon as possible.
The Botswana government has repeatedly refused to allow LEGABIBO to legally register as an NGO.