HEALTH: SURVIVING HOLIDAY FLINGS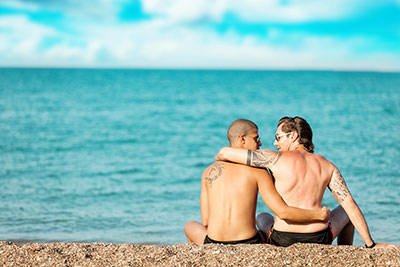 Most of us look forward to the end-of-year holiday season as a time to relax, recover and let loose. That often means plenty of drinking, partying and having fun.
And, yes, that usually also includes grabbing every opportunity for some sexual release.
A TripAdvisor Romance On Holiday Survey found that over half (58%) of UK travellers have enjoyed a holiday fling at some point. I don't think most of us here in South Africa would be any different.
Whether we're away on holiday or just taking a break at home, once we're removed from the stresses of work and everyday life our hormones tend to go wild and our sex drives often seem to be permanently at full throttle.
If you're in a relationship, that could result in more fun, more often, under the sheets (or the stars) with your partner – which will only help strengthen the bond between you. Some may even choose to bring another person, or more, into the bed when on holiday.
Whatever the case – whether involved or single, whether monogamous or not – when we're in a different town or country our inhibitions are quickly left behind. We're more likely to do things we don't usually do at home – and that could mean hooking up; whenever and however.
During the silly season every attractive guy can seem like another possible fling or holiday conquest. (And often, it's with guys we'd normally never consider "our type" or ever take home to meet the family.)
When it comes to a fantasy holiday shag, hunky actor Henry Cavill, who recently played Superman on the big screen, was recently voted the most-desired male holiday fling. He was followed by footballer and underwear model David Beckham.
Real life or fantasy, ask just about anyone you know and they're likely to tell you some outrageous holiday stories. Here are a few I picked up:
Jeff (26) remembers being so drunk he once gave a guy a blowjob on the dance floor at a club while everyone watched. "I cringe with embarrassment when I think about it now."
Kagisho (31) says he once went away with his boyfriend, broke up with him after one day and spent the rest of the holiday with a guy he met on the beach. "We had amazing sex but we had nothing to say to each other."
Russell (43) says he often stays at home over the holidays because the coast is too busy and, if he's not involved at the time, he'll hook up with men he meets online almost every night. "I love the variety of guys I can get. It's like ordering takeaways."
Bongani (23) remembers waking up with a guy in a hotel room in KZN. He didn't know who the guy was, didn't remember meeting him and had no idea how he got there. "I just snuck away and he didn't even wake up. I was so scared I might have gotten infected, but I was lucky."
Justin (38) is now married to the man of his dreams, but he remembers going on holiday to Cape Town when he was younger and spending almost every night at one of the steam baths. "I had a blast, but I would never have done that in Joburg."
The point is, when we're having fun, we often also want to have sex – and that's probably exactly how nature intended us to be. The trick, I guess, is having a good time but not coming home with anything more than a minor broken heart or a tan.
To help you out, here's some simple advice to survive those holiday flings:
• Keep condoms and water based lube with you at all times; in your wallet, your pocket; your car or your man-bag. Using these is still the easiest and best way to avoid HIV and STIs.
• Remember that one of the effects of alcohol and drug use is that you may not always make the smartest decisions. That could lead to risky sex. Try to keep your head on straight.
• Before meeting someone for a casual encounter, or going out partying, decide on how far you are willing to go (this may even help an intoxicated mind to make better choices even in difficult situations).
• If you do have unsafe sex, then use lots of lube (this avoids anal tearing), try to pull out before coming and remember that the bottom is at highest risk of infection.
• If you're worried you might have come into contact with HIV, try get your hands on a course of PEP within 72 hours from a gay-friendly clinic or ask your doctor. This could stop the infection in its tracks.
• If you're going to invite strangers to your home, or hotel room, or are going to their place, be careful. Try to make sure someone knows where you'll be and remain aware of possible danger.
• If you are on holiday with friends and you are planning on having fun or letting loose, ask a responsible friend to keep an eye on you.
• Don't do anything that you don't feel comfortable doing. If it feels wrong or dangerous it's okay to turn around and leave the situation.
Enjoy the holidays!
For advice, counselling and information on sexual health services for men who have sex with men contact OUT in Pretoria on 012 430 3272 or visit www.men2men.co.za.