FILM REVIEW: THE 10 YEAR PLAN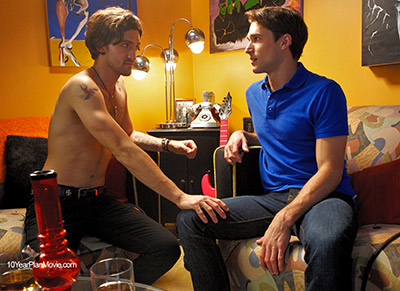 Hailing from the studios of Cinema175 in West Hollywood, writer/director J.C. Calciano, creator of previous festival favourites such as Is It Just Me?, eCupid and the sneaky hit YouTube web series, Steam Room Stories, brings us his latest cinematic shenanigans.
Who doesn't enjoy an entertaining Rom-Com every now and then? Something you can slip on, sit back and settle in for some light entertainment of pure fun escapism. Even better if it happens to be some higher quality decently acted, queer comedy. Too often are we subjected to underdeveloped badly made, produced and weakly acted so-called gay films which fail to enthral or impress.
This terrible independent film maker trend is finally coming to an end and these days many excellent new gay films, both locally and internationally produced, can be found gracing our home shore screens. These post modern reimagining's subvert the stale old stereotypes, which are still mainly portraying the gay community as shallow drug fuelled sexual deviants.
Thankfully, The 10 Year Plan is part of the new order. Sure there is always going to be some sex and hopefully at least a little deviancy, but stories of regular Joes who just happen to be guys who love other guys is refreshing. As a community we are so ready for this next wave of intelligent queer film making.
The 10 Year Plan is a new gay romantic comedy about love and friendship featuring two best friends who could not be any more polar opposites of each other, especially considering their taste in men.
Myles (Jack Turner) is a successful lawyer but also a hopeless romantic, who is looking for the perfect Mr Right so he can settle down into romantic marital bliss. Brody (Michael Adam Hamilton) is his handsome best friend, a Los Angeles police officer, who beds every man he crosses paths with in an attempt to hide his own soft insecurities and feelings of being unloved.
Fearing their spinster futures, the guys make a pact to be together, totally involved, if they are both still single in ten years' time with neither having found true love.
Comedic high jinks ensue as the agreed-upon date looms and both scramble to make sure they are involved in relationships or romantically unavailable before their impending nuptials can take place otherwise they must each disappoint the other by refusing to honour their pact. An eclectic cast of colourful supporting characters populate the landscape adding flavour to the film.
Realisations and reckonings ensure nobody's life goes according to plan but just maybe they are destined to find something even better…
Some interesting facts:
The film premiered as part of the Boston LGBT Film Festival at the Brattle Theatre in Cambridge, Massachusetts, on April 4, 2014 and is currently screening at film festivals around the world.

Despite running an INDIEGOGO campaign which only managed to raise $7,600, a mere 30% of their $25,000 goal, the entire film was subsequently shot in twelve days on a budget of about $80,000.
The 10 Year Plan officially opened this year's annual Durban Gay & Lesbian Film Festival at KZNSA Gallery, in Glenwood, Durban.  (Friday 20 June to Sunday 6 July 2014). It will be screened again on Friday 4 July at 8:30 PM. More details here.