World Aids Day HIV shower selfie campaign launched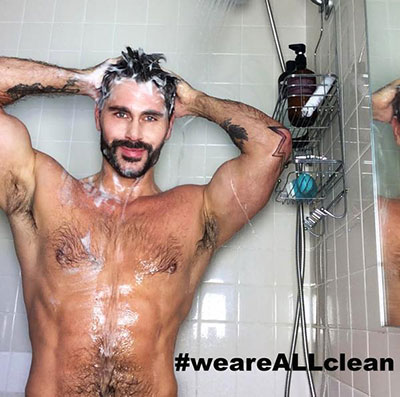 A sexy and fun new social media campaign to raise awareness and funds to combat HIV has been launched.
The HIV Shower Selfie Challenge was thought up by hunky American HIV activist, swimmer, model, and fashion designer Jack Mackenroth.
"I was inspired by the use of the word 'clean', especially common in gay culture, to describe oneself as STI/STD free. Indirectly this implies that HIV-positive people are somehow 'dirty'", said Mackenroth, who is himself living with HIV.
"I thought a PG or PG-13 shower selfie or Vine video would be a fun way that everyone could easily show their support on social media for finding a cure by using the hashtag #weareALLclean when they post their photo with the link. They then nominate three other people to participate and hopefully donate to the project as well."
The goal of the campaign is to raise one million dollars to help stop the epidemic and help find a cure. All donations received will be donated to Housing Works, a New York-based non-profit organisation fighting on the front lines to end AIDS and homelessness.
Actor, model, singer and social media stud, Chris Salvatore, has also joined the campaign. "It's time to erase the stigma and unite as a global community. Regardless of your gender or sexual identity – no matter what age, colour, size or shape you are, you should be part of this project!" said Salvatore. "And have fun with it. Be funny, sexy or silly. Who doesn't want to see people in the shower soaping up for a good cause?"
This is how it works:
1) Take a selfie or Vine video of yourself in the shower.** NO EXPLICIT NUDITY**
2) Post your photo on social media platforms with the caption "Take HIV Shower Selfie Challenge raise $$ for AIDS cure bit.ly/CUREAIDS #weareALLclean"
3) Challenge three or more other people to participate!
4) (Optional) DONATE!! Please consider a small donation if you are able. Every penny counts! Click here.
5) On World AIDS Day: Monday, December 1st, please change all your social media profile pictures to your shower selfie photo and spread the word.
RT! Take HIV Shower Selfie Challenge raise $$ for AIDS cure! http://t.co/L8krBd1v5H #weareALLclean pic.twitter.com/RvmMxDzwgw

— Jack Mackenroth (@jackmackenroth) November 24, 2014
RT! Take the HIV Shower Selfie Challenge and help raise $$ for an AIDS cure! http://t.co/tqRESaIIik #weareALLclean pic.twitter.com/JaD0SGY0ai

— Chris Salvatore (@CSalvatore) November 24, 2014
Help fight #HIV w/ the #showerselfiechallenge End the stigma: #WeAreAllClean http://t.co/obEpfx7vld pic.twitter.com/mWjX0DPsJQ

— Big Joey D (@Big_JoeyD) November 26, 2014
Take the HIV ShowerSelfieChallenge for an AIDS cure!http://t.co/j4pLj0Rycz #weareALLclean Share on @Moovzofficial pic.twitter.com/x2WQtJcCgl

— Idan Matalon (@idanmat) November 24, 2014
Take the HIV ShowerSelfieChallenge To Raise Money For AIDS Cure – http://t.co/DR9xeVMx61 #weareALLclean pic.twitter.com/XEd7yV4B11

— KWAGREEN (@kwagreen) November 25, 2014