Look! Africa's biggest gay rainbow flag flies in PE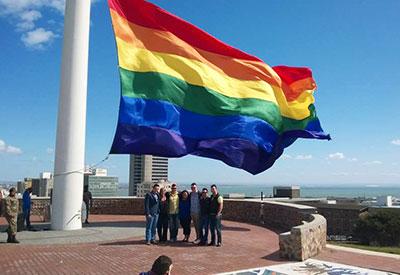 Port Elizabeth has unveiled the largest-ever flown gay rainbow flag in Africa to mark this past weekend's fourth Nelson Mandela Bay Pride celebrations.
On Friday, Pride organisers, along with members of the city's metro council and tourism authority, attended an official ceremony to raise the flag at Donkin Reserve, situated on a hill that overlooks the bay and its harbour.
The massive 12 meter by 8 meter flag was flown on a huge flagpole together with the South African national flag, also said to be the country's largest at 15 by 10 metres.
The rainbow flag is internationally recognised as the symbol of LGBT equality.
"NMB Pride took a decision to manufacture this flag and fly it on South Africa's tallest flag pole as a symbol of solidarity, diversity and inclusiveness, of hope and of yearning, as well as a beacon of our love for those who do not have the freedom we sometimes take for granted in our country – those who are subjected to the animosity from the leaders in theirs," said the organisers in a statement.
"It will fly for the school boy and girl who are bullied for being different, for the people who are afraid to be their true selves in the communities they belong to, and for each and every victim of violent hate crimes."
One of the Pride organisers, Thomas Bekker, told Mambaonline that the flag was "a great way of putting PE on the map in terms of doing something for the community."
"It could be seen from just about anywhere in PE," he added.
On Saturday, over a thousand members of the region's LGBT community gathered at the Boardwalk Lawns for a day-long Pride music festival and parade.
Around 800 people took part in an hour-long afternoon procession through the city, returning back to the lawns to continue with the entertainment and festivities.
"For us, as organisers, we do it for those young people who are scared to come out as gay and whose parents don't support them.
"It's an event where we can be a family, come together and support and raise awareness for our rights in South Africa," said Bekker.