Jussie Smollett presents award to Lee Daniels who slams Donald Trump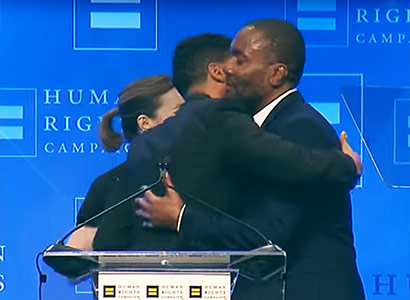 Jussie Smollett has presented Lee Daniels, the creator of the hit show Empire, with the Human Rights Campaign (HRC) Equality Award.
The show was honoured at the HRC gala in Los Angeles on Saturday night for its ground-breaking representation of LGBTI issues and characters within the African American community.
The openly gay Daniels was introduced "as my second father" by Smollett, who came out just over a year ago and rose to stardom playing the gay character of Jamal Lyon on Empire.
Daniels was joined on stage by the show's producers and cast and used the opportunity to warn the star-studded audience about a possible Trump presidency. He urged the LGBTI community to vote for Hillary Clinton instead.
"He's taking over — he's coming in to take us down, y'all, and this is serious business. Let's do the right thing and make sure Clinton is in that fucking office and taking care of us," the producer and director said.
"I don't think you realise how much they're coming for us," Daniels continued. "And this is not a joke. I've watched everyone make light of what is going on. They are coming for every one of you. White people are not excluded — they're coming for us."
Daniels has previously stated that one of his aims with Empire was to address "homophobia" that "is rampant in the African American community."