Activists: no justice for LGBTI victims of hate crimes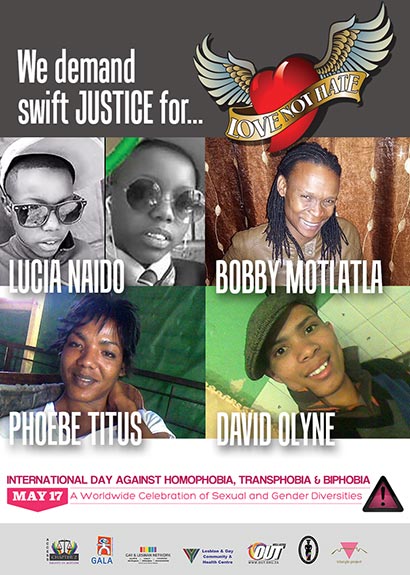 Marking the International Day against Homophobia, Transphobia and Biphobia (IDAHOT), South African activists have highlighted four hate crime cases that remain unresolved.
"These LGBTI victims of deadly hate crimes have yet to receive justice," commented OUT LGBT Well-being's Hate Crimes Manager, Lerato Phalakatshela.
The cases, which go as far back as March 2014, all reflect deficiencies in the criminal justice system, he said. In some, suspects have yet to be arrested while others are marked by delays and claims of shoddy investigations.
Phalakatshela, speaking on behalf of the Love Not Hate campaign, called on the authorities "to complete their investigations and court cases swiftly and efficiently."
Lucia Naido, 19, a lesbian woman, was stabbed to death on the night of her birthday in March 2016 in Katlehong on Johannesburg's East Rand. Despite witnesses who may have seen two suspects, no-one has been arrested.
The body of talented music student Bobby Motlatla, 35, was discovered in his flat in November 2015. He had been stabbed multiple times. No suspects have been arrested.
Phoebe Titus, 30, a Western Cape transgender woman, was knifed to death by a 15-year-old youth in broad daylight in Wolseley in January 2016. The teen has been arrested but the man who allegedly handed the boy the knife that killed Phoebe has yet to be charged with anything.
David Olyne, 22, was bound with wire and then beaten, kicked, stomped on and set on fire in Ceres in March 2014. A man has been found guilty of the murder but his sentencing has been repeatedly postponed. Activists believe that others were involved in the killing and have gotten away with murder.
The much vaunted government-led "Rapid Response Team", which is meant to monitor and fast track LGBTI related hate crimes, last met almost a year ago, in June 2015.
The Department of Justice has promised to unveil a hate crimes bill this year, which would identify and further criminalise crimes based on the victims' actual or perceived sexuality or gender identity.
IDAHOT has been commemorated every year on May 17 since 2005 to honour the day that homosexuality was removed from the International Classification of Diseases of the World Health Organisation (WHO) in 1990.