Travesty of justice – anger as Jon Qwelane avoids justice once again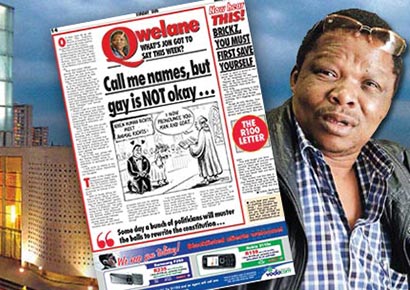 In what seems to be a bad joke with no end, the eight-year-long Jon Qwelane hate speech case has been postponed – possibly indefinitely.
The matter was set to resume in the South Gauteng High Court on Monday, but took an unexpected turn when Qwelane's legal representatives asked for a postponement because of his poor health.
The court was told that Qwelane is suffering from an array of ailments, including lung disease and diabetes and cannot attend the trial. He is said to have been hospitalised for cardiac arrest and mini strokes a number of times and is on 24 hour oxygen support.
Judge J Moshidi rejected a request by the South African Human Rights Commission (SAHRC) that Qwelane be examined by an independent medical expert, claiming this would be a violation of his right to privacy.
No date has been set to resume the matter and there are now fears that, due to ill health, Qwelane may never face the charges against him.
Qwelane was convicted of hate speech in 2011 for writing his notoriously 2008 anti-gay article, but has challenged the ruling on the basis that sections of the Equality Act, under which he was convicted, infringe on his constitutional right to free speech.
The SAHRC, which originally brought the case against Qwelane, is seeking an apology and damages from him.
The Psychological Society of South Africa (PsySSA) was to present evidence at the trial in support of the Equality Act and to show the harmful effects and consequences of hate speech on members of the LGBTI community and on broader society.
PsySSA's legal representative, Webber Wentzel's Kerry Williams, told the Mail & Guardian: "The fact that, after eight years, Qwelane has not been held accountable for his hate speech in a court of law is a travesty of justice."
In his 2008 article, Call me names, but gay is NOT okay…, published in the Sunday Sun, Qwelane compared homosexuality to bestiality and urged politicians to remove the sexual orientation equality clause from the Constitution.
In 2011, an Equality Court ruled that the article "propagates hatred and harm against homosexuals" and ordered Qwelane to apologise to the gay community and to pay damages of R100,000 towards an LGBTI rights group. Qwelane had the ruling rescinded on a technicality, but the SAHRC re-filed the charges.
Despite his statements flouting the country's Constitution, Qwelane was unexpectedly made South Africa's high commissioner in Uganda by President Jacob Zuma in 2010. This was described at the time as a "F*** you" to South Africa's and Uganda's LGBT communities. Qwelane left the position some time in 2014.