Jon Qwelane – Wrong is Wrong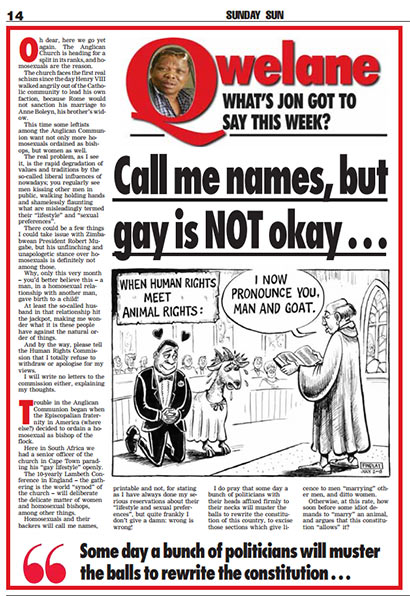 Notoriously homophobic writer Jon Qwelane has again outraged the LGBT community with a recent column in which he equates homosexuality with bestiality. Titled Call me names, but gay is NOT okay…, the article was published in the Sunday Sun on the weekend.
In the piece Qwelane writes about the Anglican Church's internal rift over the ordination of gay priests, stating that the "real problem" is the "rapid degradation of values and traditions…" In this regard, he lauds Zimbabwean President Robert Mugabe for his "unflinching and unapologetic stance over homosexuals."
Qwelane goes on to claim that "you regularly see men kissing other men in public, walking holding hands and shamefully flaunting what are misleadingly termed their 'lifestyle' and 'sexual preferences.'"
The constitution also comes under fire when he writes that he prays that politicians will some day have "the balls" to rewrite the constitution "to excise those sections which give license to men 'marrying' other men, and ditto women."
"Otherwise at this rate, how soon before some idiot demands to 'marry' an animal, and that this constitution 'allows' it?" he asks. "And by the way, please tell the Human Rights Commission that I totally refuse to withdraw or apologise for my views," because, he adds, "wrong is wrong."
The column is accompanied by cartoon of a man being married to a goat in a church ceremony. (Read the full article here – PDF, 500Kb.)
Jon Qwelane's long career in journalism has been marked by controversy. He has been the subject of numerous hate speech complaints to the Broadcasting Complaints Commission, and was suspended for using "abusive" language on-air on Radio 702. In previous columns he has described gays as "unnatural," homosexuality as "sinful" and that if he had gay children he would "condemn and disown them."
The question of whether Qwelane's article qualifies as hate speech can be answered by the Bill of Rights contained in the constitution. It states that while freedom of speech and the press must be protected, this does not extend to "advocacy of hatred that is based on race, ethnicity, gender or religion, and that constitutes incitement to cause harm."
While sexual orientation is not specifically mentioned here, the principle remains the same – especially as sexual orientation is included later in the bill when it states that everyone must be treated and protected equally under the law.
It could well be argued that the column does "advocate hatred" through its support of Mugabe's violent oppression of gays and lesbians as well as its definition of an entire group as being wrong and unnatural. In essence Qwelane would like to deny us the right to exist freely and his comments could be read by some as a justification to do harm to gays and lesbians.
Reaction to the column from members of the LGBT community has been swift and intense. Mambaonline has received numerous e-mails responding angrily to Qwelane.
The Joburg Pride board says that it will lay a complaint with the Press Ombudsman and the Human Rights Commission, while others have called for a boycott of the newspaper and its advertisers:
"Joburg Pride calls for the Sunday Sun to publish a withdrawal of the column and to make a public apology to the lesbian, gay, bisexual and transgender (LGBT) community of South Africa. While we accept that Mr Qwelane is entitled to his personal opinion, we feel that the publication of the column amounts to hate speech and can only serve to incite further violence against the LGBT community." – Zak Mbhele, Co-Chair, Joburg Pride Board.
"Not only is it shocking that a journalist and a publication can actually write and publish such bigoted tripe, but it is really sad to see that such people with such opinions actually still exist in South Africa. Never before have I read such blatant homophobia. It's shocking, shameful and disgusting. Who the fuck is John Qwelane anyway, but more importantly who the fuck is John Qwelane to judge others?" – Gary de Klerk, Editor, The Pink Tongue newspaper.
"Mr Qwelane's chauvinist views are typical of that held by the uninformed. Mr Qwelane also admits that his thinking approximates that of the infamous Robert Mugabe. This statement in itself categorizes Mr Qwelane's attitude and creates the vivid impression that he is an individual without any regard for the basic principles of democracy and the ideals of human rights." – Dr Mixael de Kock, Executive Producer and Presenter of radio show BravoBrava.
"Jon Qwelane is showing his true colours at last – that of a bigot, a hypocrite and a homophobe (in my humble opinion). His comments should be seen as verging on, if not actual, hate speech, by equating gays with animals. The poor man's intelligence does not stretch far enough to understand a very simple legal requirement – 'consent'. An animal, as shown in the equally disgraceful sketch by Findlay, cannot ever give its legal consent to marry. I sincerely hope that his threat to the Human Rights Commission will not go unnoticed." – Coenie Kukkuk, Attorney, Pretoria.
"As gay people we have a constitutional right to be respected. Besides the facts that are wrong I believe this excuse for a human being and its newspaper needs to be taught a lesson. I urge all Gay people unite and boycott this newspaper and all its affiliates. This is hate speech and should be prosecuted to the full extent of the law." – Pieter Rossouw, Event and Party Promoter.
"The content of the article is deeply disturbing, particularly at a time when South Africa is still reeling from recent violence against another minority group – foreigners. Whilst John Qwelane is unashamedly homoprejudiced, to the extent that he attempts to make a mockery of the constitution, I think the editor of the Sunday Sun needs to be severely censured for printing Mr Qwelane's views. To make their point, the gay, lesbian, bisexual and transgender community of South Africa, and their families and friends, should consider boycotting all businesses that advertise in the Sunday Sun, forcing them to shift their support to other publications that support human rights in our country." – Glenn de Swardt, Gay Rights Activist, Cape Town.
"Perhaps Mr. Qwelane should delve into the spate of homophobic violence that has spread throughout South Africa. It's articles like the one written by Jon Qwelane that add fuel to the homophobic fire. His words at best legitimise, at worst promote more attacks on gays and lesbians. As far as I am concerned, he has blood on his hands. Mr Qwelane needs to realise words have power. He may not be realising it, but he is shaping the minds of people who take his words and put them into action, directly translating into rapes and murders." – Jeanine Cameron, Journalist, Cape Town.
"Mr Qwelane would do well to devote a whole lot more research and at least some critical thought to his writing. I am no expert on the Bible but even the most cursory research suggests that neither the 10 Commandments nor the 613 Laws of Moses say anything, hint or allude to anything like, "Thou shalt not engage in homosexual sex." Deuteronomy 22:22 on the other hand advocates capital punishment for adultery. When Mr Qwelane assembles his team of Christian politicians to rewrite the constitution, I highly recommend they reinstate that law while they are about their business – at least there would be some Biblical basis for it." – Ashraf Johaardien, Playwright.
"We wish to object in the strongest terms to Mr Qwelane's comments. It is utterly baffling that this man is actually a practicing journalist. (In fact, maybe he should practise some more…) We call for the immediate dismissal of Qwelane as well as his editor. Media24 should immediately apologise publicly to the gay community, preferably in a way that will cost them a substantial amount of money. A donation to various gay community organisations comes to mind. This will only go a small way towards smoothing things over with our community." – Rubin Van Niekerk, Editor, Gay Pages.
Do you think that the column is hate speech, and should such speech be barred from being published? Make your comments below.