Bloem photographer crowned Mr Gay World Southern Africa 2017
Juan Pinnick, a 23-year-old photographer from Bloemfontein, walked away with the 2017 Mr Gay World Southern Africa crown in Pretoria last night.
Pinnick, who also won Mr Gay Mardi Gras at the Pink Loerie Festival earlier this year, beat out 11 other finalists to earn the highest score in the competition.
The finalists' audited scores were compiled from judges' ratings over a gruelling week-long process and during the grand finale on Saturday night, as well as voting by the public. Pinnick not only scooped around R30,000 worth of prizes but he will also represent South Africa at the Mr Gay World event next year.
"Initially I felt numb", Pinnick told Mambaonline about the moment he was announced as the winner. "And then the tears started… Ideas just start flooding your mind about what you're going to do next and how are you going to live up to the title. It was a feeling of awe."
In a first for the contest, the win saw the Mr Gay World Southern Africa crown remaining in the family. Pinnick's boyfriend is AleXander Steyn, the 2016 winner, who passed on the title to his partner at the glittering event at the Atterbury Theatre.
Pinnick admitted that some might question how it came about that he took over the title from his boyfriend, but insisted that it was above board. He noted that while the previous year's titleholder is traditionally one of the judges, Steyn had recused himself in order to ensure impartiality.
"He wasn't part of any of the judging. And he didn't help me at all. He said to me, 'This is your baby and, if this is something you want to do, then you have to do it by yourself.' I'm not planning to fill his shoes. Xander had his reign. It's my time now."
The couple consider themselves parents and are helping to raise two teenagers in Bloemfontein. "We do want to be seen as a couple that everyone can look up to. Obviously, like any couple, you have your problems… your fights. But the thing is that you don't give up on each other. You stay together. It's beautiful that we both can be a voice for the gay community."
Karabo Morake, 27, a junior executive legal account manager from Cape Town, came in second place. He was followed by Thaio Lekhanya, 27, a creative specialist and fashion consultant from Johannesburg, in third place. According to the organisers, the scores of the top three were extremely close.
In a Facebook video, an emotional Morake said: "The past week has been mind blowing. I made amazing friends from this competition. They are like my family now. This competition has put me in the spot. It took me out of my comfort zone. I put myself out [there] in a way I never put myself."
Pinnick also said he had made long-lasting connections with his two princes, who were dubbed the three musketeers. "I don't want to reign alone," he commented. "I believe that we can make a bigger difference if we work together."
Over the next year, Pinnick plans to remain visible and to focus on projects that will unite the LGBTQ community as "a family", using social media and crowd funding platforms.
"As the gay community we have all we need to make it. We have people in very high places, we have amazing talent. If we stand together we would be an amazing force to be reckoned with."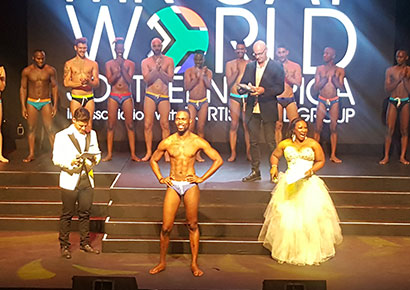 While Pinnick was a popular and well-deserved choice, he will be the seventh consecutive white individual to represent South Africa at the annual Mr Gay World contest.
Mr Gay World Southern Africa Chairperson Johann van Niekerk acknowledged the concern as a real one and said the organisers had made great strides to ensure that the entrants in the contest are more representative. "This year's line up was the most diverse ever," he said.
"We've shown the community that it is open to everybody and this year's contestants are now becoming the torchbearers to those who perhaps were too afraid to participate. We hope that 2018 will see an even more inclusive number of entrants."
Van Niekerk thanked all the sponsors and those who worked so hard behind the scenes. "We could not have done it without them," he said.