South Africa's first gay choir is singing with Pride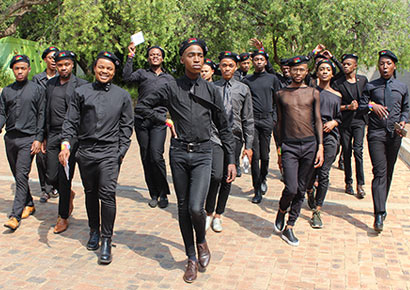 The talented young men who form the Mzansi Gay Choir are making waves in the music world, all while preaching the power of self-love.
There's a history of gay men coming together to sing in choirs. Founded in 1978, the famous San Francisco Gay Men's Chorus is credited as the world's first openly gay chorus.
These choirs are a platform for self-expression and empowerment for an often sidelined community and an opportunity for gay men to perform openly, as and who they are.
Now, South Africa continues the tradition with our very own Mzansi Gay Choir.
Established in 2016 by Feather Awards founder Thami Kotlolo and mentored and trained by Brenda Mtambo, the twenty-something-member choir aims to showcase the vocal skills of members of the gay community.
Behind the songs, there's also a message of promoting affirmation and self-acceptance as well as celebrating diversity among gay men, including our wide range of masculine and feminine expressions.
When talking to the choir members it's clear they are not just talented singers who love performing, but are also passionate activists for LGBT equality.
"We don't have a lot of gay role models in the industry," says Dominik Roman, 21, who's been singing in choirs since the age of nine, "and the Mzansi Gay Choir will give you a plethora of people in terms of breaking stereotypes. Most of us only have three things in common; the singing, we're gay and the activism."
In just a short time, the Mzansi Gay Choir has entertained a growing number of captivated audiences, with performances for the Feather Awards, The Gauteng Department of Health World AIDS Day campaign, the Ntirisano campaign and the national Women's Day celebration.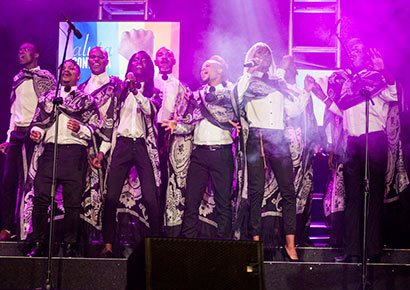 Last month the choir performed at a concert at the Bassline in Newtown, alongside Mtambo, Kelly Khumalo, Wonder Baloyi and Amstel. They've also made TV appearances on shows such as Mzansi Insider, Selimathunzi, Morning Live and WTFTumi.
Mathews Motsoeneng is one of the founding members. The 25-year-old musician from the Free State decided to join the choir because he also sees himself as an activist.
"I always like to put my word out there. And the only way I know how is to sing," he says. "And we are better together as a team than when fighting alone. Why not team up with people who want to do it and take the message out there?"
The choir is an opportunity, he says, for gay men to sing about their experiences and their journey, "without the stigma – and it's fun!"
The choir's repertoire is upbeat and empowering, consisting not only of popular hits by the likes of Lebo Mathosa, Lady Gaga, Brenda Fassie, Sipho "Hotstix" Mabuse and Michael Jackson, but also their own original material.
"We like to keep the song selection 'Mzanzi', we keep it proud, and we keep it with love," said Roman. "We often sing old school hits that have a message, like the Aretha Franklin song from the 80s, A Deeper Love."
Motsoeneng, who has classical vocal training, initially found it difficult to adapt to the more pop sensibility of the choir.
"Hey, it was tough. I don't want to lie. But it made me grow as an individual," he reveals. "Now, I know how to mix my classical vibes with my Afro-pop sound. Because of this I am going to be a better artist."
The Mzansi Gay Choir has already released two singles; Let Me Be and I'm On My Way (available on iTunes and Google Play Music). The song titles say it all.
"The songs that we write, they are inspirational. We are individuals and we all have our struggles and we want to touch people out there," says Roman.
"We are spreading one message – and that's self acceptance. There's a kid sitting out there, a 16-year-old trying to understand his life – and we are there as an outlet for him. It could also be a 53-year-old man sitting in the closet. If I was eight and I had something like this to look up to, it could have dealt with a lot of frustrations of mine."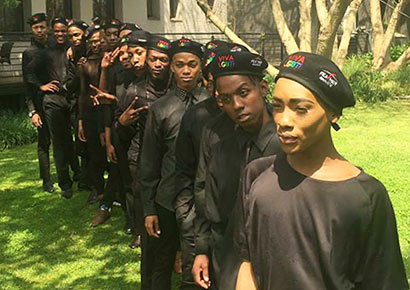 Watching the choir in action is electrifying. Their performances (often while wearing high heels) are powerful and uplifting, leaving the audience emotional and on its feet.
"We love music that can get our heads popping and tapping our feet. We keep it proud and never apologise for who we are," exclaims Roman.
Motsoeneng adds: "We also want to help open doors for people who are gay in the entertainment and media industry." The choir is an opportunity, he says, for gay men to sing about their experiences and their journey, "without the stigma".
He continues: "We just want to say to people: be true to yourself, be comfortable and happy with who you are. Embrace it, love it!"
Heaven has a new sound. It's gay, it's proud and it's called the Mzansi Gay Choir.