Opinion | LGBTQ Rights as Human Rights – The Sisulu Factor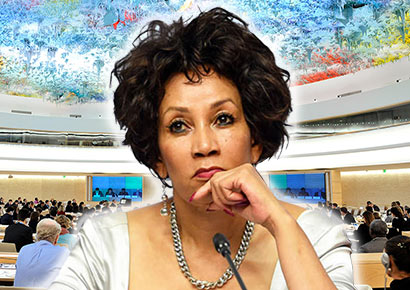 The recent Cabinet reshuffle by President Cyril Ramaphosa has been marked with both positive and negative reactions. There is, however, broad consensus over the appalling appointment of Bathabile Dlamini as Minister of Women in the Presidency, calling to question whether the new administration is truly committed to promoting gender and sexual equity in South Africa.
But what are the implications beyond our borders, particularly in Africa where South Africa occupies a unique hegemonic status and where such issues are often highly contested?
In 2011, then US secretary of state Hillary Clinton, delivered a landmark speech in which she stated: "Like being a woman, like being a racial, religious, tribal, or ethnic minority, being LGBT does not make you less human. And that is why gay rights are human rights, and human rights are gay rights… The Obama Administration defends the human rights of LGBT people as part of our comprehensive human rights policy and as a priority of our foreign policy."
In that very moment, for better and for worse, Clinton intertwined LGBTQ politics with the international human rights framework, officially thrusting the (queer) subject into the realm of international relations. Not only did this present a marked shift in the politics of human rights, it also demonstrated the immense influence that individual/s, operating within the confines of international state apparatus, can have over global affairs.
Since then, LGBTQ rights have been a polarising dynamic in global politics, predominantly dividing states on the historical and hierarchical boundaries of "The West vs the Rest" and "Modern vs Traditional". The LGBTQ issue, as it is often called in such settings, is constructed and simultaneously viewed as a discreet tool for Western intervention, further exacerbating the complex debate around defining universal human rights and its subsequent tensions with national sovereignty.
Theoretically, as a country with foundations built on the principles of human rights (that include gender and sexual rights), South Africa is compelled to disagree with its traditional allies and break ranks with the African bloc when this debate presents itself in global forums. However, as witnessed over the past 10 years, this has not always been the case. As a result, the country's international apparatus has found itself attempting to navigate an uncomfortable middle ground in which it seeks to regulate the tensions between (constitutional) values and (developmental/political) interests.
The appointment of Lindiwe Sisulu, Cyril Ramaphosa's former running mate in the recent ANC elective conference, as Minister of International Relations and Co-operation (DIRCO) may give a subtle indication of the new administration's foreign policy objectives. It is in itself a vote of confidence from the President, particularly in her ability to represent South Africa on the global stage.
However, what is unclear is whether DIRCO, under her leadership, will commit to the Human Rights-based foreign policy agenda that is enshrined in our Constitution; that of which was encapsulated in the Mandela Presidency. It was under this assumption that many activists heavily criticised the Zuma administration's inconsistent foreign policy stances, particularly with regards to LGBTQ rights on the continent and in the broader global sphere.
It all began in 2010 when former president Jacob Zuma appointed Jon Qwelane, who had been found guilty of hate speech by the SAHRC for comparing same-sex marriage to bestiality, as South Africa's ambassador to Uganda. A few years later in 2013/2014 Uganda passed a bill criminalising both homosexuality and those that failed to report it in their communities. South Africa did little to condemn this obvious abuse of human rights.
At the time, following public outcry, DIRCO released a statement indicating the following: "South Africa takes note of the recent developments regarding the situation of Lesbians, Gays, Bisexual, Transsexual and Intersex persons (LGBTI) worldwide." A few weeks later, the ANC in Parliament voted against a DA sponsored resolution that condemned the actions of the Ugandan government.
Furthermore, Nigeria, Mauritania and Sudan, among others, all apply the death penalty as punishment for same-sex relations, with a vast number of states across the globe criminalising homosexuality, including many of South Africa's so called "strategic partners" with whom we maintain cordial relations.
To add insult to injury, in June 2016 South Africa abstained from a vote at the UN Human Rights council which sought to establish a global LGBT independent watchdog. The government went even further to support an African-bloc sponsored resolution to dissemble the very same initiative a few months later under the guise of "technicalities", "sovereignty" and "non-interference". This was followed by an about-turn where South Africa departed from its original stance.
The country's Ambassador to the UN Jerry Matjila rightfully articulated their reasoning prior to the vote: "Discrimination has torn South Africa apart for the past 350 years. We will (therefore) fight discrimination everywhere. We cannot discriminate against people who are LGBTI. (This is) a position disagreed with by many of our colleagues across the (African) continent…We are not going to add fresh wounds when we are still healing our wounds in South Africa because of discrimination."
As noble a response as this was, such interactions demonstrated the symbolic severity of the conflicted stances and tensions that plagued the Zuma administration's foreign policy.
With that in mind, it is broadly agreed that the constitutional obligations of our office bearers include defending enshrined human rights that extend both domestically and globally. As a country with a significant historical and geopolitical positioning on the African continent and the broader international stage, particularly with regards to issues of equality and justice, South Africa's selective silence has been more than deafening in this regard. The real question now is whether the Sisulu factor will provide the necessary clear and decisive leadership that DIRCO needs to enact a values-driven foreign policy. One can be pro-African and pro-Human Rights; the two are not mutually exclusive.
When President Ramaphosa was elected to the highest office, a number of articles applauded his historical stance on LGBTQ issues, particularly with regard to his role in drafting one of the most progressive constitutions in the world. Lindiwe Sisulu herself campaigned fervently to draw attention to LGBTQ rights during her tenure on Ramaphosa's slate as deputy president of the ANC.
Minister Sisulu was not elected to the leadership of the ruling party, nor was she appointed deputy president of South Africa. She was, however, assigned one of the most influential portfolios in Cabinet and she now has an obligation to fulfil her campaign promises and compensate for the disaster that has descended upon the women's ministry.
In this regard, the optimism associated with the new administration may be coming to an abrupt end and its actions on the global stage remain to be seen. Though their rhetoric may be positive, when it comes to LGBTQ Rights as Human Rights, Ramaphosa and Sisulu will need to distance themselves from the inconsistencies of the Zuma administration, and most importantly, walk the talk.
James Lotter is an LGBTQ Activist, MA & SARChi: Gender Politics scholar in the Department of Political Science at Stellenbosch University. This article was first published by Daily Maverick.