Tab Hunter – Gay Hollywood heartthrob dies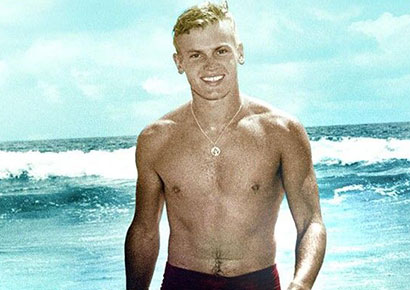 One of the iconic gay male stars of Hollywood's Golden Era, Tab Hunter, has passed away at the age of 86.
According to his partner of 35 years, producer Allan Glaser, Hunter died of a blood clot in hospital in Santa Barbara, California, on Sunday.
"We were walking home and he collapsed in my arms in our front yard," Glaser told CNN. "He said he couldn't breathe, so I called 911, and we went to the hospital."
Hunter (born Arthur Andrew Kelm) became a silver screen phenomenon in the 1950s, thanks to his blond hair, blue eyes and American boy next door good looks; captivating both young heterosexual women and many young gay men.
He enlisted as a US Coast Guard while a teenager (lying about his age – he was only 15) before turning to Hollywood and becoming known for films such as Battle Cry and Damn Yankees. Hunter was Warner Bros' most popular male star from 1955 until 1959. He also had a number of hit singles and a short-lived television sitcom called The Tab Hunter Show.
Throughout his career, he was dogged by rumours about his sexuality. In order to prop up his heterosexual image, the studios responded by fabricating stories about romances with female stars such as Debbie Reynolds and Natalie Wood. In fact, he had relationships with male Hollywood celebs, such as Psycho's also-closeted Anthony Perkins, and figure skater Robbie Robertson.
"[Life] was difficult for me, because I was living two lives at that time," he told Gay and Lesbian Times in 2005. "A private life of my own, which I never discussed, never talked about to anyone. And then my Hollywood life, which was just trying to learn my craft and succeed… If anyone ever confronted me with it [his homosexuality], I'd just kinda freak out. I was in total denial…"
He added to the New York Times: "There was a lot written about my sexuality, and the press was pretty darn cruel…" but what "moviegoers wanted to hold in their hearts were the boy-next-door marines, cowboys and swoon-bait sweethearts I portrayed."
Appearing in around 50 films, Hunter formally came out in 2005 with his autobiography, Tab Hunter Confidential: The Making of a Movie Star. He also appeared in documentary based on the book that included interviews with the likes of John Waters, Clint Eastwood and Debbie Reynolds.  The decision to open up about his sexuality helped turn him into a gay icon in the US.
Tab & Tony,  a movie about Hunter's affair with Perkins, starring out Star Trek actor Zachary Quinto, was recently announced.