Gay penguin couple become star attraction (Watch)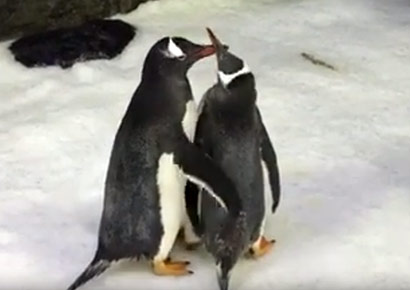 Loving gay penguin couple Sphen and Magic are drawing aquarium crowds, especially after being given an egg of their own to hatch.
The male couple, collectively known as Sphengic, are residents at the Sydney Sea Life Aquarium and have become one of its most popular attractions.
As the breeding season approached, staff noticed that Sphen and Magic began developing a strong bond and became inseparable.
Like other breeding gentoo penguins, the couple also started collecting 'pebbles' in order to create a nest. Staff gave them a dummy egg to 'incubate' so as not to exclude them and to see how they would react.
According the aquarium, "they were absolute naturals and displayed great care for their egg." So much so, that the duo were given a real foster egg from another penguin couple to hatch.
The two penguins swap duty daily: while one incubates the egg, the other patrols the area to ward off any possible threats.
"Whilst Sphen is older and is excellent at incubating, Magic is younger and still mastering his skill," said the aquarium. "The pair make a great team, and there are often days where the egg can not be seen (which is really good for penguin breeding)."
Over the years, there have been numerous instances of gay penguin couples raising chicks highlighted in the media. Contrary to claims that homosexuality is 'unnatural' by opponents of the LGBTQ community, same-sex attraction in nature is in fact not uncommon and has been documented in over 1,500 animal species.
The well-known children's book, And Tango Makes Three, is based on the true story of two male penguins that hatched a chick in New York's Central Park Zoo.