Following "straightwashing" claims 'Bohemian Rhapsody' surprises at the box office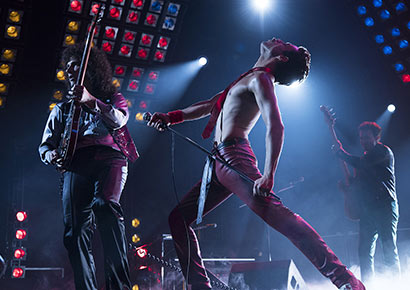 Bohemian Rhapsody, the biopic about Freddie Mercury and his iconic band Queen, has weathered poor reviews and a difficult production to still make an impressive impact on the box office.
The film opened in around 10 countries on Friday, earning $51 million at the US box office and a total of $141 million worldwide. The haul is higher than expected; it was projected to only make $35 million in the US over the weekend .
This means that Bohemian Rhapsody has scored the second biggest US musical biopic debut after Straight Outta Compton, which earned $60.2 million on its opening weekend in August 2015.
"It really is a celebration of Queen and their music, and I think we did a really good job of letting people know that that's what this is," said Chris Aronson, head of distribution for 20th Century Fox.
While critics have generally been positive about the high powered performance by Egyptian-American actor Rami Malek as Mercury, they have been less enthusiastic about the rest of the film. Bohemian Rhapsody has also come under fire by some for toning down and sanitising aspects of Mercury's rock star life, sexuality and wild partying so as to make the movie more palatable to audiences.
John Houlihan, Senior Vice President of Fox Music, confirmed this was the case to Daily Mail, although he insisted that the film was an accurate reflection of Mercury's life. He said that, "Nothing is hidden away" but admitted, "Essentially, it's a family film. Queen is family music. The band has always hit upon many, many generations of fans, and this is a great film where they can all go. It's a movie for the masses."
Malek also addressed claims that the film "straightwashes" Mercury by, for example, not including his six-year relationship with Jim Hutton, who was with him until his death in 1991 from AIDS (the film ends shortly after they get together).
"He had a beautiful relationship with Jim Hutton, and we had a finite period in which we wanted to tell this story," Malek told USA Today. "Believe me: There were conversations left and right about how to incorporate more of that story into this film. It was something I pushed for, to be quite honest, as much as possible and repeatedly brought to the attention of producers and directors and everyone who would listen."
Malek added: "Freddie Mercury is a gay icon, and he's an icon for all of us. I hope people do not feel that the film does a disservice to the community, and if it were me, I would've loved to have incorporated more."
The film experienced a tumultuous production. In December last year, director Bryan Singer, left the film midway amid a flurry of rumours, including claims he'd had a number of on-set clashes with Malek. There were also tabloid reports that Singer was often late or failed to arrive on set after alleged late night "benders".
Singer denied these claims and insisted that he was fired because he requested time off to deal with "pressing health matters concerning one of my parents". Dexter Fletcher was hired shortly after to complete filming and post-production.
Bohemian Rhapsody opens in South Africa on 30 November.