Life's a drag (race) as MCQP revs its engines for 2018!
The theme for this year's MCQP, Africa's biggest costume party, has been revealed and it's sure to appeal to both the butchest of jocks and the most regal of queens.
The 2018 theme was announced on Saturday night in Cape Town as 'MCQP Presents: Drag Race'. It was also confirmed that the event, on Saturday, 15 December, will be returning to the Cape Town Stadium after five years.
The Collins dictionary defines the term drag race as "a race between vehicles to test their acceleration from a complete stop, especially between specially designed cars on a short, straight course."
This definition will no doubt conjure up a favourite film scene for many, as drag races are depicted as a dramatic climax in several classic movies.
For others, "drag race" is synonymous with the American reality TV show, RuPaul's Drag Race, which has been renewed for an eleventh season, and celebrates drag queens of all sexual orientations and gender identities in all their fabulousness.
"I'm pretty sure everyone will agree that this year's theme offers the most diverse opportunity for all MCQP enthusiasts to create teams of any outfits or costumes," said Ian McMahon, Director of MCQP. "These can range from racing car teams to the absolutely fabulous strutting their stuff in high heels and the most outrageously sexy dresses, while wearing the most OTT wigs, eyelashes and heavy makeup – and everything in between."
He added: "With MCQP Presents: Drag Race there will most certainly not be a limitation on just how creative those attending can be. It without a doubt embraces the diversity of our South African societies and above all else, recognises each individual's uniqueness and authenticity – something that is close to our heart as the organisers of the event."
Back to the Mother City's fabulous "eye in the sky"
MCQP Project Manager and DJ, Candice Heyns, said the event was tremendously excited to return to the Cape Town Stadium, noting that it has not only been a firm favourite with MCQP fans in the past but is also just as iconically Capetonian as MCQP itself.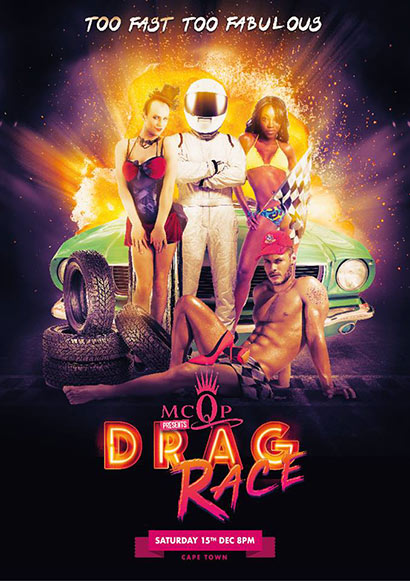 "Flying over Cape Town, one almost expects a wink from what looks like an 'eye in the sky', perfectly adorned with what looks like heavy eyeliner," she said of the stadium. "Every dance floor will be indoors to help with Cape Town's notorious wind in December."
MCQP Presents: Drag Race will once again offer a variety of dance floors, some of the best DJs from around the world, and several areas where drag racers can chill and take in what promises to be one of the best nights of the December festivities. MCQPs full line-up will be announced soon.
Variety of ticket options available
MCQP Presents: Drag Race will start at 7pm on Saturday, 15 December. Early Bird tickets, starting at R370 for general access, R1500 for VIP tickets, as well as several TEAM Package options like Racing Team for 10 (at R2700), Team 15 and Team 20 packages are now available at www.quicket.co.za.
VIP includes all-night complimentary bar in the VIP lounge area, VIP shows and staging, sweets 'n snacks and trackside seats, fast track access and a private parking area, photo setups and more.
Limited Private Pitstop Trailers are also on offer at R30,000 for 20 persons, which will include all the benefits of VIP and more.
For more information, visit www.mcqp.co.za or facebook.com/ILOVEMCQP.