Cedric Fourie on masculinity and being an LGBTQ ally
Skeem Saam actor Cedric Fourie and vlogger Lasizwe's sensational arrival at the Feather Awards as each other's dates last year was a seminal moment in South African pop culture, one that transcended the usual gossip mill.
Here was Cedric, a man believed to be straight and sporting all the physical trappings of traditional masculinity, publicly showing affection on the red carpet with an openly gay man.
Photos of the duo, hand-in-hand, went viral on social media, with the Twitterverse exploding into feverish speculation about what it all meant. Were they dating? Was Cedric coming out as gay? One homophobic woman declared that that if so, this would be "a waste" of a man.
Cedric shut down the homophobia, embraced the controversy and spoke out as a proud ally of the LGBTQ community. Now, the star and father of a young boy, has been named an ambassador for the Me1st campaign; a project that aims to help men who have sex with men (MSM) prioritise their health, especially with regard to HIV and other sexually transmitted infections.
Cedric spoke to MambaOnline about the Feather's red carpet furore, the truth about his relationship with Lasizwe and what it means to be a man in South Africa today.
You've described yourself as an LGBTQ ally but what does that entail?
I'm not a shadow ally, someone who says I'm an ally but doesn't do anything about it. It means I've got a responsibility to drive anything that is going to bring about a positive impact within the LGBTQ community, whether it is bashing stigma, whether it is driving for conversations about people killing gay men, bisexual women, transgender, queer, lesbians or so forth… I believe that as a straight man in society I've got that responsibility to ensure that I live in a community that is not biased, that is not discriminatory, that is not racist, that is not sexist and does not support or tolerate any violence against people based on their sexuality and gender.
Why do you think allies are important?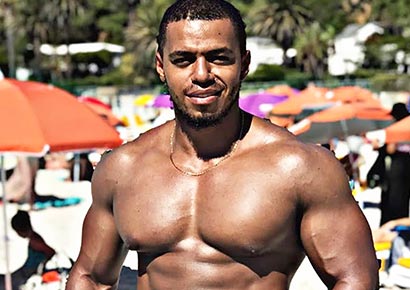 You can never push a movement alone. That's why you also need straight people or the straight community coming and saying "we are also part of this movement. Let us help you." You need members of the society that are oppressing your community to join in. For example, when black people went through the apartheid regime they still had white allies. You need allies that come from all walks of life. That is my responsibility that I've given myself, because I've got a gay brother, I've got a [gay] cousin, I've got good friends. It's not even about giving back, it's because I am really trying to push for a better community.
You're an ambassador for the Me1st campaign. What does that name, Me1st, represent to you?
That you're looking out for your overall wellness first and then other people. When you're having sex with different people you need to look out for everyone that's involved in your sexual life. But it starts with you going and getting tested and knowing your own status first.
Closeted men who have sex with men (MSM), especially those that don't identify as gay or bisexual, are the hardest people to reach with HIV services in South Africa. Why do you think that is?
Look, I always say this; nobody needs to come out. Nobody should have to come out and say, 'I'm gay,' as much as straight men don't go around saying, 'oh I'm straight'.  Now [these MSM] obviously don't want to be associated as gay, or whatever, so we firstly need to kill the idea that being homosexual is bad or is wrong or a weakness. And then we need to move the discussion to saying to people that we are not going to label anyone, because sexuality is fluid.
So what would you say to these men?
They are afraid to come out and test [for HIV] but we're not labelling anyone or saying that if you're having sex with men, it means you're 'gay'. It just means you [like] sexual pleasure with another man; maybe you come better sleeping with a man. It's orientated around sexual activity not the definition of who you are and what you are. And I would like to say to those men, that you need to step up or step out. Because you don't want to know when it's too late.
Your close relationship with Lasizwe reflects so many issues about masculinity.
Me and him share a brother kind of relationship. I don't speak to him as a straight guy addressing a gay man and trying to convince him to be straight. And that's what I love about our relationship. I wish the world could be like this. I wish straight men could love and appreciate gay men the way they are. Lasizwe is like that with me, he holds my hand in public. And people look at us funny, sometimes they just laugh out loud, but we get more people showing love than judging us. Because they're saying 'wow, you guys are daring. We know what you guys are trying to do. And we love it.'
Did you two go to the Feather Awards together to make a statement or were you just being yourselves?
He said to me that he was going to go up on the stage and 'I'm going to [jokingly announce] to this made up girl that she must stop touching or stop trying to get with my man, Cedric Fourie.' And I was like, 'if we're going to go that route then we're going to need to give an impression that we are probably dating from the moment we enter.' And we were like, 'I wonder what conversations this is going to strike up?' I knew people were going to talk and we were definitely going to get called for interviews, which actually did happen. And it gave me a platform. So it was literally [about] sparking conversations and getting people talking. My main cause is challenging people's beliefs of what is masculinity. Does me going with Lasizwe and holding hands mean that I am gay or that I'm not? Because it's just affection. Does me hugging my fellow brother mean I'm gay?
Why do you think people reacted so strongly to it?
People generally have to box everything they don't understand so that it makes sense to them. They avoid the part of the journey of getting into a discussion and breaking out of their comfort zone. And that's basically what we were doing.
How did you meet Lasizwe and why did you think you connected so well?
He was working at Touch HD (online radio station) and he requested for me to be one of his guests for an interview. And when we were having the interview, oh my God, we just clicked. I said to him you don't need to only be who you are with your fellow gay brothers; you can be who you are with me. You can talk about anal sex with me, you can tell me about a guy you like. And that's what I love. We were bridging that gap.
From your experience, what do you think all this says about South Africa's stance on homosexuality?
You know, we live in Joburg and we think everything is sweet, until you go outside of Joburg. Especially into the rural areas where they have gay boys who are not allowed to be gay and they may be killed or be hurt really bad. And those boys are dying to join the LGBTQ community of Johannesburg. So if you think that [Joburg] gives us an idea of the overall views of the country, you're going to be misled. I've also realised that South African men are [only] comfortable with a gay man who looks straight. They will accept it because you can blend in and they can blend in with you. But what about the ones that are feminine or want to explore their feminine side? And you see the straight men shying away from that, and I'm like, 'but why?' It's like you are okay with the LGBTQ community, but with terms and conditions. I feel we still have a long way to go, but a lot is being done.
In South Africa we're lagging behind some other countries where there seems to be more willingness for celebrities and public figures to be open about their sexuality. Why do you think that is?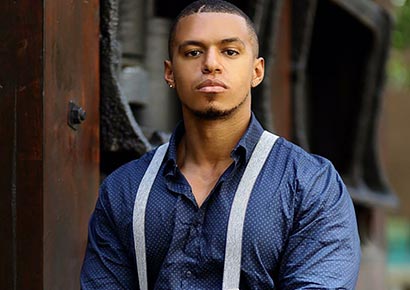 When you're a public figure, where your money depends on the love people have for you, [there's the fear that if they] know that you're gay or sexually fluid they start distancing themselves from you. Not getting booked, not getting any deals or endorsements. Because we still have a lot of homophobic people who are running our country or who are in positions of power.
Are you not concerned that aligning yourself so closely to the LGBTQ community might affect your own career?
If I believe something is right, it needs to be addressed. It needs to be done. At the end of the day, I'll know I wasn't a sell-out, that I wasn't the one guy who's known to have gay friends but when I'm seen in public I run away from them. If I don't get work because of it, then so be it.
For more information about HIV and sexual health and to chat online, visit the Me1st website at me1st.co.za. You can also WhatsApp Me1st on 072 637 6212 for support, any time, 24/7. Look out for Me1st activations in Bloemfontein, Kimberly, East London and Durban.