Mr. Allofit | Coming for everything in the hip-hop world
Hailing from the village of Mthatha in the Eastern Cape, Mr. Allofit (Sikelela Gobodo Ndlumbini) has become one of the notable talents in South Africa's rap and hip-hop scenes.
Thigh or ankle high boots with heels, colourful braids with a touch of fur and chic earwear have become his signature looks. This rising queer artist is unapologetic about his passion for gender fluid style and his authentic raps.
Growing up in a household of musicians, Mr. Allofit says that he found comfort in music.
"My mother is a musician and her ex-husband is a saxophone player. I grew up in a musical environment. I remember being about five years old, attached to my mother and not waiting for her to leave for school. The only way I'd settle and stop crying was if they played my Michael Jackson tape."
Not only is he a rapper but Mr. Allofit's also a singer, choreographer and fashion stylist. He started focusing on his musical career in 2015 when he began singing about his experiences as a black gay man.
"In all my raps, I'm either talking about what is happening in my life, or I'm prophecising further into my life. I think it also comes with being a spiritual person as well. All of my raps encompass my lived experiences and also the spiritual aspects of who I am."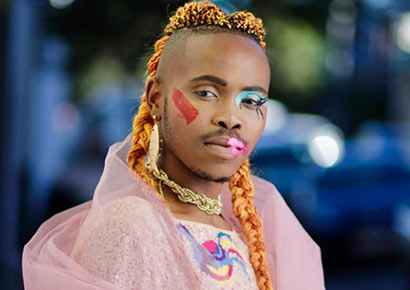 Growing up, Mr. Allofit was influenced by the likes of music icons such as Michael Jackson, Britney Spears, Brandy, Christina Aguilera, Beyoncé, Destiny's Child and Brenda Fassie, to name a few.
"One thing they all have in common is they've made music that'll be relevant decades from now. That inspires me a whole lot. We're not only making music for now but music that'll live on forever."
Mr. Allofit is open to collaborating with artists such as rap sensation, AKA, if the time is right. "I mean if an artist and I vibe and it's meant to be, it'll happen. I don't have deeply embedded desires to collaborate with anyone. If it's meant to be…"
If he could, there's one particular legend who's no longer with us that he'd kill to work with: "Brenda Fassie if she was still alive because she is the queen of music."
There have been ongoing conversations about South Africa's entertainment industry not easily opening up to new and upcoming talent. The hip-hop and rap scenes are also known for being notoriously homophobic. Mr. Allofit, however, is absolutely not deterred by this reality.
"Screw the game and its homophobia; I'm coming up whether they're ready to stomach me or not. Not concerned! Stage after stage, show after show, song after song has proven [that] I'm the superstar of the century. God's timing is what I'm working with."
Like many other artists who have been regarded as "alternative" or don't fit the accepted norm in the entertainment industry, he is defiant in making his own opportunities.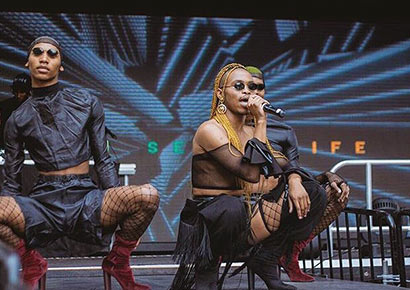 "You see how women are fighting for their rights and are advocating for their visibility to be acknowledged by men? The same can be said about the LGBTQIA+ community. Look, the conversation is there and it's growing," Mr. Allofit says.
"My fellow queer rappers are slowly coming up and there is some progress. I mean, record labels are still hesitant in investing in us because they are not sure of how to sell our talents as products to the mainstream market. So, we are like the biggest risk to bet on and none of them is willing to take that risk. But we have taken it upon ourselves to create our own spaces, our own gigs. Through that, I think we are infiltrating into mainstream media."
Check out Mr. Allofit on Instagram, Soundcloud and YouTube.