Victim blaming: Beeld's shameful anti-gay street pole posters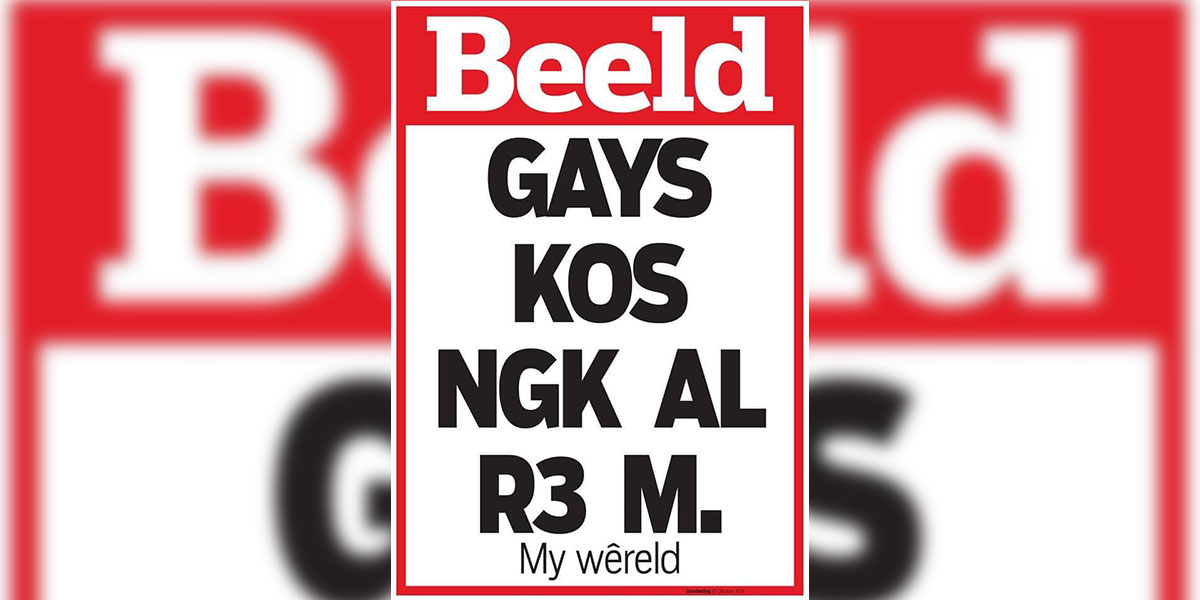 Beeld newspaper has decided to blame gay people for the financial cost of the homophobic discrimination perpetuated by the Dutch Reformed Church (NG Kerk).
On Thursday, the Afrikaans language publication put up tasteless, attention-grabbing street pole posters proclaiming: "Gays cost NG Kerk R3 million."
The headline refers to Tuesday's decision by the General Synod of the Dutch Reformed Church (DRC) to let church councils and ministers choose to bless same-sex civil unions and to accept openly gay clergy.
The synod originally took a similar stance in 2015 but a year later reversed the decision following a backlash from its conservative base.
The latest policy revision was put into place after a three year legal battle with 11 members of the church who took it to court to force it to stop discriminating against LGBTQ people.
They won the case in the High Court in Pretoria in March, which effectively forced this week's decision. The court found that not only was the church's policy reversal unprocedural and in contravention of the church's own rules but was also unconstitutional.
According to Beeld, the church has spent around R3 million to defend its discriminatory position. This included R850,000 in legal costs and R1.6 million to hold the extraordinary General Synod meeting in 2016 in which the original 2015 decision was reversed.
Through its sensationalistic poster, Beeld has failed to tell the truth. It has scapegoated the LGBTQ community as the reason for the church's financial loss.
It fuels the narrative that LGBTQ people are unreasonably and unfairly out to destroy religious institutions, instead of acknowledging that we are simply demanding equality and dignity.
Most people who see the poster as they drive or walk past won't read the newspaper itself and therefore won't understand its context.
What should the poster have stated instead? The more appropriate and accurate headline would have been: "Homophobia costs NG Kerk R3 million."
Rev Laurie Gaum, one of those who took the church to court, agrees. He says that the responsibility for the wasted money lies squarely "on the shoulder of those who were discriminating."
He equated the poster to scenarios in which victims are blamed for their abuse instead of the perpetrators. "It's not accurate and it's disappointing. The fact is that it was the church not playing according to its own rules that brought us to that moment in the court that we wanted to avert."