Construction begins on Harvey Milk naval ship
After having forced Harvey Milk to resign in 1955, the US Navy has begun building a new ship that will be named after the slain LGBTQ rights icon.
The construction of the naval fleet oiler, which will be used to supply fuel, oil and goods to other ships at sea, began on Friday in San Diego, California.
Milk served in the Navy during the Korean War as a diving officer aboard the submarine rescue ship USS Kittiwake. He later served as a driving instructor at the San Diego Naval Base.
It's believed that Milk's naval career ended with an 'other than honourable' discharge because of his sexuality. Lesbian and gay service members were not allowed to openly serve in the US military until September 2011.
Milk's nephew and founder of the Harvey Milk Foundation, Stuart Milk, took part in an event commemorating the start of the ship's construction by shipbuilding company General Dynamics NASSCO.
"(This) sends a global message of inclusion more powerful than simply 'We'll tolerate everyone,'" (It says) We celebrate everyone," Milk said at the event, which was also attended by San Diego Mayor Kevin Faulconer and other politicians.
"He dreamed of a day like today, when not only would we have the military honouring LGBT, but we have a mayor from the Republican party and we have everyone that represents the San Diego community coming out," Milk told the San Diego Union-Tribune. "This would have been un-dreamable for people back in 1978."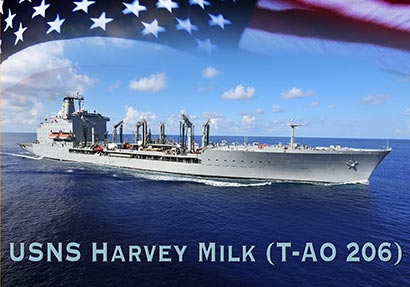 Milk is best known as an LGBTQ activist and the first openly gay American politician to be elected into office. While serving as a Member of the San Francisco Board of Supervisors he was assassinated in 1978 at the age of 48 by a disgruntled city official.
In 2009 he was posthumously awarded the Presidential Medal of Freedom, the highest civilian award in the US. Harvey Milk Day is marked annually in California and an Oscar-winning film about Milk's life, starring Sean Penn, was released in 2008.
Under President Trump, the US has enforced a ban on openly transgender personnel in the military. Trump shocked the world in July 2017 by announcing on Twitter "that the United States Government will not accept or allow Transgender individuals to serve in any capacity in the US Military."