Gallery | Male underwear model Isaac Moreno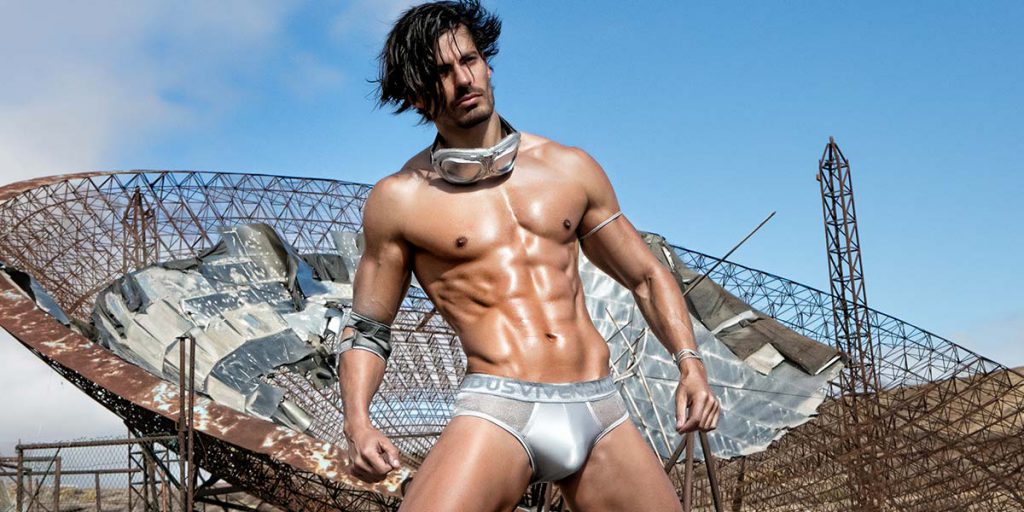 Meet sizzling Spanish male underwear model Isaac Moreno, who is proud to show off the latest Armor line from Modus Vivendi.
The source of inspiration for the Armor line is the armour used by medieval knights, said the company.
These images by photographer Joan Crisol were shot in Tenerife, in the Canary Islands.
Here's an interview with Isaac, who clearly knocked this photoshoot out of the park.
Any dietary tip? What are your eating habits?
70% of my diet without protein … I do intermittent fasting and control my weekly calories to be dry all year round, with good aesthetics, since I also do the catwalk and there they ask me to have some measures. I train 6 days a week, … and of course no alcohol or many parties … haha .. Only specific dates per year.
Favourite place to travel?
Around the world … haha … I love to travel, but if I have to stay with a New York city I like it a lot … But hey, I love to know places and cultures, I adapt easily … and it's something That enriches me as a person. It would be amazing to know Greece.
Any skincare tips?
Good nutrition, … Hydrate the skin well and have a good rest …. And laugh … lol .. be positive and seek happiness … in the long run, the body thanks you very much. And of course, physical exercise.
What do you do for fun?
Being with my family brings me happiness and wellbeing … But I really enjoy walking, enjoying nature and especially the beach … I am from the Canary Islands and I love spending the whole day lying in the sun … haha … Also, go to dinner with my partner, go to the movies … and go dancing on occasion.
What's your favourite tv series or movie?
My favourite TV series is Dark … And my movies: Forest Gump and Life is Bella … I love movies and go every week … And if I have to keep a genre I choose science fiction; I love.
Any causes you support?
Donations and volunteer for natural disasters
Are you on any dating app?
No
What's your superpower?
My empathy and integrity … I strive not to break my values.
Have you changed your daily habits to support the environment?
Honestly not … but it is a task that I have pending; strive to do something else for the hungry environment … something I have to improve on.
Are you currently in a relationship? What do you value in a partner?
Yes … I value many things, but what else: his faithfulness, humility and understanding.
The Armor line comprises of boxers, briefs, tangas, low cut briefs, jockstraps, tank tops and T-shirts and is available through the Modus Vivendi site.