Queer voices | Grief and loss in the time of coronavirus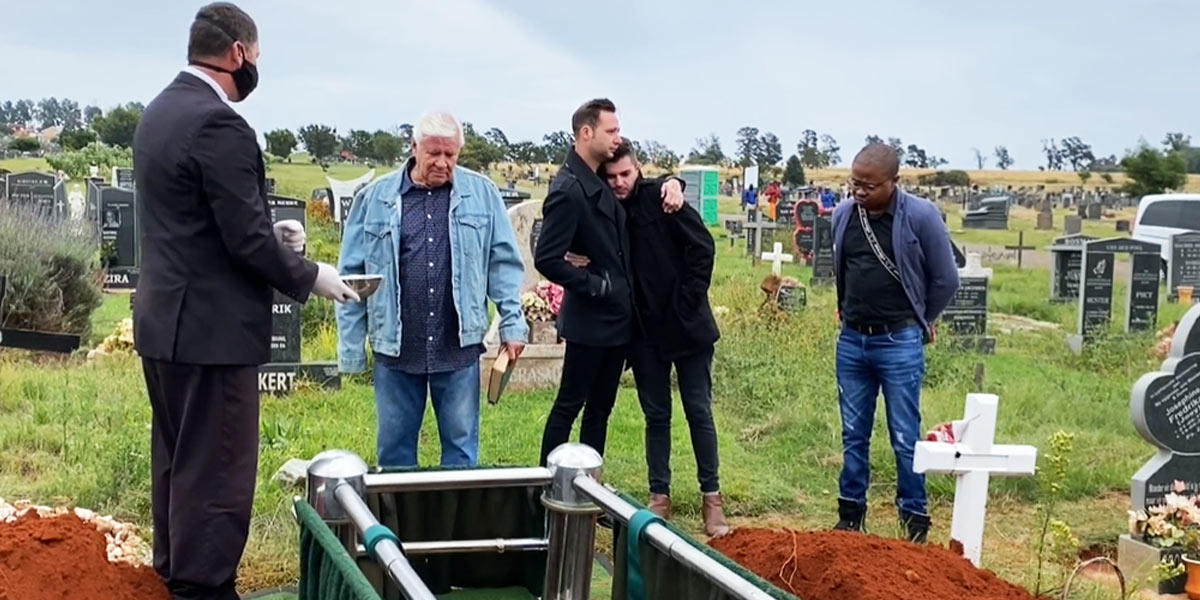 A Johannesburg man has had to face the devastating death of his beloved grandfather from the coronavirus, made worse by not being allowed to be by his side.
The coronavirus pandemic has affected every person in South Africa, but for some – so far, a relatively small group – it's had a deadly impact. It's also meant that when it comes to death, loss and grieving we now all have to deal with a new normal.
Max Ziervogel, a 26-year-old senior social media manager, lost his grandfather, Louis Wilsenach, a marketing guru and author, on the 30th of March; among the first people to succumb to the disease in the country.
Max describes his grandfather – whom he affectionately called "Opi" – as "a character with such a big personality, such a healthy man" and "the biggest inspiration to me."
Louis was known for his work for brands such as Bankfin, Simba, Chappies, Mercedes-Benz and Weber Braais. He also wrote the Afrikaans book, Aha! Die Fenomeen. "We shared a great love for cars and advertising," says Max.
After not feeling well, Louis agreed to go to the hospital on the 24th of March, where he was found to have Covid-19. Soon after, he was placed in the intensive care unit. "We were not allowed to be at the hospital and we weren't allowed to bring him anything. This was the worst part of everything," says Max.
Spending time with or visiting a loved one who is ill and in distress is something we all take for granted but it was denied to Max, his family and partner, Stephan. Louis was also denied the comfort of spending his last days with his loved ones.
"I wish I could have been there, just once at least," says Max. While Max tried to keep in touch via messaging, Louis was unable to use his phone in the last few days of his life. "I sent him WhatsApp messages every day. They were unread."
Max also phoned the hospital every day to get updates on Louis' condition. "He would get worse, and then wake up and be better – but then he would be tired. I gave the nurses messages to give to him. Apparently, he half-smiled and then would say he was tired."
Max acknowledges that not being able to see his grandfather was something that could not be avoided to limit the spread of the disease. "The Netcare hospital he was with was excellent, and I am so proud of how everyone has handled this pandemic."
"He always smelt like my childhood…"
And then came the awful news: "I remember standing in the kitchen, my phone rang and it was my dad calling. I debated with myself about whether or not I should answer; I think I knew what was coming. Then my dad told me and I burst into tears," says Max. "I put the phone down. I didn't even realise what I was doing and ran to Stephan. My whole body went into shock and my heart shattered. I sat trying to process this, crying. It was the hardest thing I have ever had to go through."
The news was also devastating for Stephan who had formed a friendship with Louis. "Stephan and I lived on his farm for a few months last year. He was so accepting, so loving and so relaxed about it. He was so proud of me, and he and Stephan had a bond I could never understand. I'm very lucky in terms of my family and acceptance," says Max.
There would be no closure for Max by being able to hold his grandfather's body and saying goodbye in person. "I wish things were different, I wish he was here. But one thing it showed me was the intensity of this pandemic… The reality of it." Sadly, Louis was also deprived of a traditional funeral attended by family and others who would usually come to pay their respects.
"Stephan and I, with my adopted uncle Tebo, were the only people allowed to attend the funeral," says Max. "We were never exposed to him, so we got permission to have the funeral together. It was terrible, so hard and so sad."
Louis' death affected so many people that the family decided to share the funeral on social media. "He was so well-known; I couldn't believe the publicity he got for his passing. Herman Mashaba tweeted us and I was on the front page of the Beeld and Rapport. It's been a weird experience, and I never knew the impact he had on South Africa."
Now, all Max has are his memories of his grandfather. "I could write a book on all the things I'm going to miss. His smell; he always smelt like my childhood. I'm going to miss our chats about cars. I'm going to miss telling him about work, and listening to how different advertising was when he was my age… There's so much."
Thankfully, he's had Stephan's support during this difficult time: "I am so lucky to have him in my life, to call him mine. He has done more than I could have ever asked, both for my family and for me."
Asked what he would say to those who have yet to be directly affected by Covid-19, he replies: "To just encourage people to listen, to stop spreading fake news and realise the extreme impact this is having on our world, and for many of us, our lives."
Max adds: "This is not flu, this is not fun, funny, or easy. We need to look after ourselves, take this seriously. I hope everyone is checking in with their loved ones; you never know when the last time you see them will be. I certainly didn't."
At the time of publishing, 24 South Africans had died from Covid-19. To stay up to date on news, developments and symptoms, visit the SA government's official coronavirus resource website here.