Pride Afrique – A Pan-African virtual Pride event
A Pan-African virtual LGBTQI+ Pride will take place from 14 to 16 August 2020 under the theme "Our stories, our voices, our Pride." Kehinde Bademosi, the project organiser, speaks about the event.
A broad coalition of African lesbian, gay, bisexual, trans, questioning and intersex (LGBTQI+) activists, continental grassroots organisations and allies are preparing for the virtual queer event, dubbed Pride Afrique.
Organisers say they aim to celebrate and uplift LGBTQI+ people and groups across the African continent and in the diaspora. The event will be streamed on Facebook, Instagram, YouTube and Zoom.
Some of the confirmed participants include the former President of Botswana, Festus Mogae, John Amaechi, the first former NBA player to come out, and South Africa's Jabu Pereira, Director of LGBTQIA+ advocacy group Iranti.
"It's about who we are beyond our sexual identities and associated stereotypes, what we do to contribute to our societies, and what resources we have available at our disposal as LGBTQI Africans," commented Nigerian public figure, writer and brand expert Kehinde Bademosi, the Project Director.
"We intend to inspire and inform both our LGBTQI communities and allies that our gender and sexual identities are never a barrier to what each of us can achieve. This event is primarily organised for those queer Africans who think they'll never attain self-actualisation owing to who they are. We also want to inform the continent and the world that our sexual and gender identities are very much part of this continent's history and narrative.''
The three-day Pan-African event will spotlight LGBTQI Africans creating change in the grassroots despite the harsh realities on their various communities. There will be intergenerational and intersectional conversations to empower the audience.
The event will also highlight diverse personal stories through multiple digital media content in Arabic, English, French and Portuguese. It is intended to attract the participation and attendance of queer people in Africa, queer African families, allies, corporate and non-governmental organisations, government institutions, and all Africans and their friends worldwide.
"The safety of our people is a key priority of this event. Even though the events are made public, participants do not need to log in or use your online profile to participate. All participation will be anonymous. We want organisations to send us support videos that LGBTQI lives matter in Africa," Bademosi said.
Emmanuel Munyarukumbuzi spoke to Bademosi about how Pride Afrique came about.
What is the whole event about, and why do queer Africans need it?
It's about the three-dimensional stories of LGBTQI+ Africans at home and abroad. We hope to centre our voices on significant issues to the continent. By showcasing our history and our journeys, we can inspire the generations coming after us to reach for the sky, irrespective of their identities. We believe a young person is listening or watching, and we are hoping to let them know that they are worthy.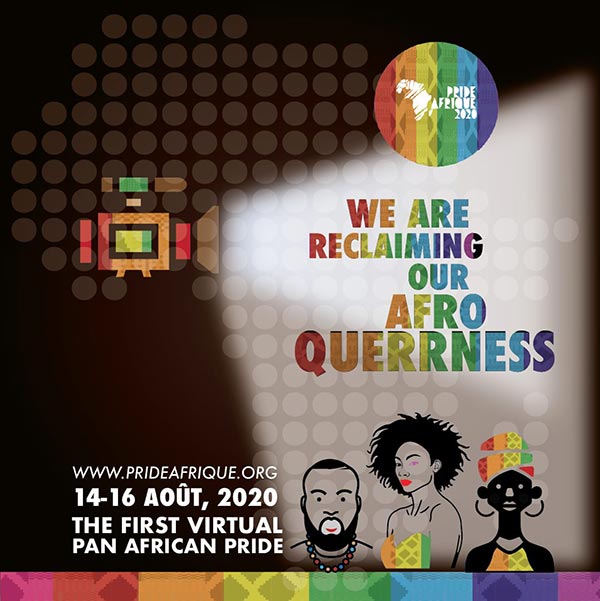 How did the virtual Pride idea come about – COVID-19 related innovation or avoiding persecution?
COVID came with an opportunity to democratise access to resources and events that were previously only possible for those who could afford to travel. With the advent of a post-COVID virtual space, Pride Afrique gives LGBTQI+ Africa a virtual space to tell our own stories as a tool of advocacy and self-preservation. As someone who had never seen Pride before relocating to the United States, I had always thought no one should be denied the joy of Pride because of where they live. Pride Afrique is only a start.
Who is putting things together, where are they located, and how did they all come together?
It was a call that started on Facebook Messenger. Once I saw the opportunity of what we could do, I reached out to David and Udoye in Nigeria, Kevin in Kenya, Gabriel from Brazil, Segun in South Africa, Miss Sahhara, and John in the UK; and Dolapo in the US. We immediately created a Google document for open-source collaboration. Within four weeks, the open document had received over 54 contributions from across the continent and from abroad. We then conducted a Google survey for areas of interest. We now have over 75 partners working on various committees and tasks to make this happen.
How can individuals and companies lend a helping hand?
Pride Afrique is 100% volunteer-driven. Join us — pitch in your talent and gift. Write. Edit. Design. Help with IT. Promote. Translate. And there is so much we can do together. We want organisations to send us support videos that LGBTQI lives matter in Africa.
How can people stay up to date with the preparation and events?
People can use @prideafrique handle or #prideafrique2020, our hashtag for social media conversations. We are on Twitter, Facebook and Instagram. We will keep updating our website with relevant information in various languages.
The website says you are not receiving monetary sponsorship. Why? And how do you run such an event with no funds?
Because we need to change the narrative that when Africa steps on the scene we are looking for money. This is a self-advocacy event. Run and fully funded by the communities. Pride Afrique is 100% volunteer-driven. All items have been contributed in kind by all volunteers.
What have you learned in this process?
That one week is not enough to tell our African queer stories, and that our people are truly resilient and beautiful. Follow the journey and listen to people. It's an honour to have people contribute their voices, and they must be heard.
What is the future of the event?
More diverse voices. Government agencies and corporate organisations in partnership to address institutional homophobia in Africa.
More information about Pride Afrique, taking place from 14 to 16 August, is available on social media (#PrideAfrique2020 hashtag or @PrideAfrique handle on various platforms) and on the website.