Eswatini LGBTIQ group erects billboard calling for equality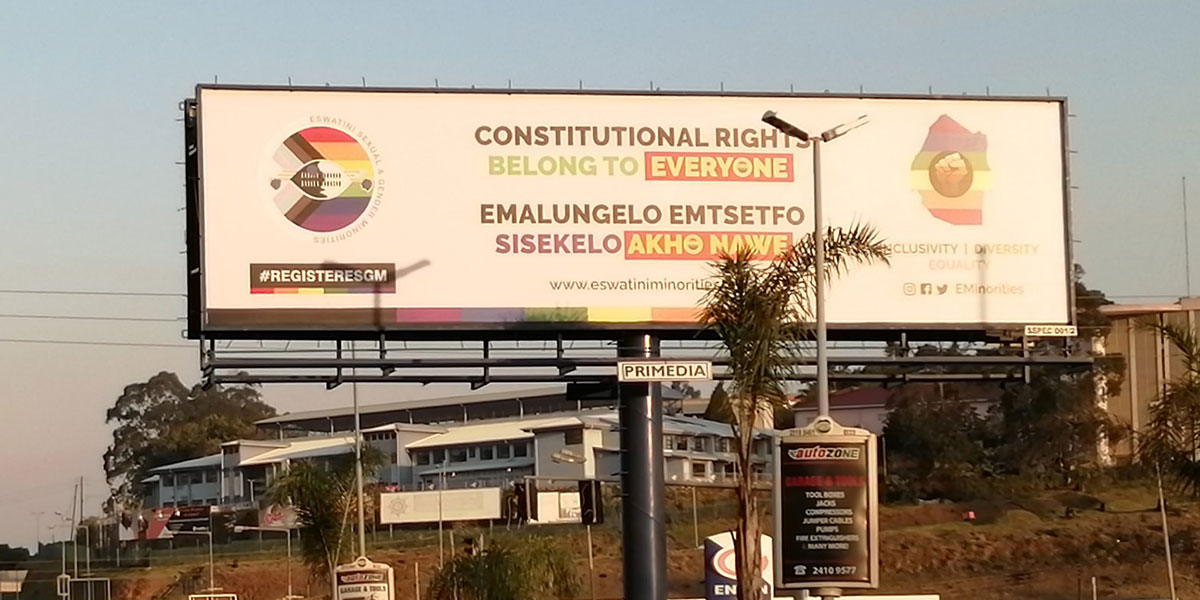 An LGBTIQ group in Eswatini has made a bold move by erecting a pro-LGBTIQ rights billboard in the capital, despite same-sex relationships being illegal.
The Eswatini Sexual and Gender Minorities (ESGM) billboard overlooks a busy road in Mbabane and asserts, in English and Swazi, that "Constitutional rights belong to everyone."
It also includes the ESGM rainbow flag logo, directs viewers to the group's website and social media platforms, and highlights its #RegisterESGM campaign.
The billboard, which was erected on Monday, follows legal action by ESGM to force the Eswatini Registrar of Companies to register the organisation. The registrar has so far refused to do so because ESGM advocates for LGBTIQ rights.
Melusi Simelane, Executive Director of ESGM, told MambaOnline that the billboard aims to "spark the conversation" about LGBTIQ human rights among the public. It further shows "those who are on the opposing side that we are not asking for anything foreign; we are asking for constitutional rights which belong to all."
Simelane continued: "We want them to know that we will not stop being active citizens. We have achieved so much as an LGBTIQ movement but ESGM members are impatient, they cannot spend any more time not having their rights and freedoms respected and recognised."
The reaction from members, friends and allies to the billboard has been of surprise and joy at what some see as a daring act. "We are touching a nerve, more and more people are engaging with the #RegisterESGM campaign. It is really heartwarming to see this sort of response," added Simelane.
ESGM spent almost a month deciding on the message for the sign to make sure that it is clear but is not too provocative, which could lead to it being taken down. "We had to check the message, double-check it and triple check it," said Simelane.
The group and its attorney also had to ensure that the message will not jeopardise ESGM's ongoing registration case, which has been delayed indefinitely, ostensibly due to the Coronavirus crisis.
The postponement has frustrated Simelane and ESGM members who are concerned that the pandemic is being used as an excuse to thwart justice.
"We believe the global pandemic can never be used as a delay tactic," said Simelane. "Just this week, our attorney advised that he has written to the Registrar at the High Court to enquire on any progress. We await a response in that regard. The call will not die out though; #RegiserESGM will become an anthem for the LGBTIQ community if it has to."
ESGM hopes to raise funds to erect two more billboards in the cities of Manzini and Nhlangano.
Eswatini (formerly Swaziland) in Southern Africa is one of the world's last remaining absolute monarchies. Offences such as sodomy are illegal and citizens "suspected" of the act can, in theory, be arrested without warrant under the Criminal Procedures Act of 1938.