Sam Smith drops new album 'Love Goes'
Multi-award-winning global queer star Sam Smith has released their new album Love Goes, which features hits like Dancing with a Stranger and the latest singles Diamonds and Kids Again.
Love Goes signals the start of a new chapter for Sam, reflecting upon two beautiful, if tumultuous years of their life, and moving forth with a looser, more euphoric sound.
The Grammy, Oscar and Brit Award-winning artist, who came out as non-binary last year, is the modern master of grandiose, raw balladry: songs about heartbreak and longing sung in arenas around the world to accumulative crowds of millions.
Written between the ages of 26 and 28, Love Goes features songs that also mirror the healing process of heartbreak, from its most painful moments through to resolution. But its formation is more boisterous and exuberant than anything Sam has made before.
A session with Calvin Harris birthed Promises, an international smash that affirmed what Sam had long hoped for: that they could be embraced for the dance-spun pop music they wanted to make too.
What followed was a string of singles crafted with the producers Sam had admired: the Scandinavian pop behemoths like Max Martin, ILYA, Shellback and Stargate. Dancing With A Stranger, a lacquer smooth and seductive RnB track with Normani was a critical and commercial success, as was the dance-pop leaning How Do You Sleep?
They were all songs written and recorded while Sam was on tour, and formed the basis of their third record, then called To Die For. But shortly before its release, the coronavirus pandemic happened and Sam decided to put the release on hold. This gave Sam the chance to re-evaluate the album. "It wasn't ready," they say in reflection. "I was on such a fast train of work, travelling and performing that I needed to come home to get some perspective on it all."
And so that's what Sam did. They returned home to London and re-examined the songs that made up that record's tracklist and reformed them into something that felt more representative of their mindset. Those aforementioned singles still appear as bonus tracks, but "there were a few songs that I'd written that I just fell in love with, and they fit," Sam says. "As soon as I changed the title to Love Goes, I just started to get the shape of what this record word was going to be."
The Sam Smith you might know has made the record no one expected them to. When they were a teenager, Sam always yearned to make the pop music they spent their life admiring: crafted by powerful women. There was a frivolity Sam strived for at the core of what they created, though: the ability to create a persona, and to play around with it. In the process of creating Love Goes, they allowed themself to delve into that too. "I played characters with some of these songs."
Case in point: the powerful Lead single Diamonds. Co-written and produced by OzGo and Shellback in a London session, Sam says it's sung from the perspective of "a really rich woman in a mansion whose husband had just divorced her, taken all of her diamonds and just left her with nothing – a Miss Havisham vibe!"
Sam proudly and bitterly bids farewell to the fictional lover and their riches here: "Take all the money you want from me / Hope you become what you want to be," they bite, as the song unravels into a massive club chorus, tinkers of triangles lining its production like jewels hitting a marble floor.
But this foray onto the dancefloor doesn't necessarily mean Sam's desire to write songs with emotional gravitas has changed. Over the deep house and high-horsepower synths of Dance (Till You Love Someone Else), they sing in full-bodied falsetto of their romantic redemption. It was their attempt at creating a song that sounded "like Pet Shop Boys meets Cher".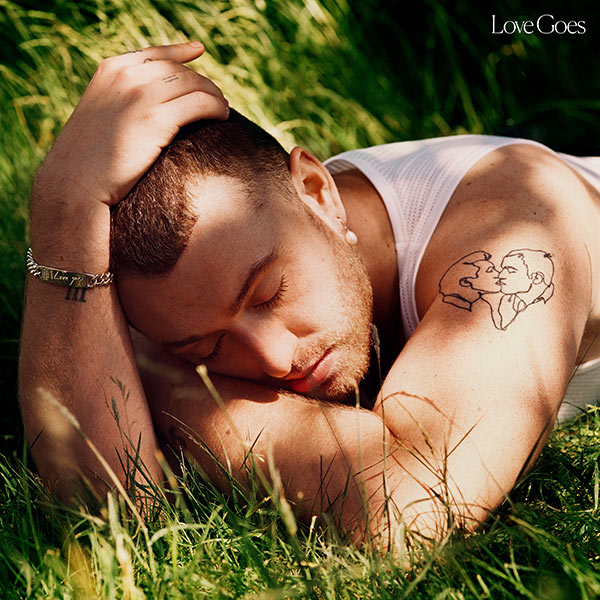 The album opens and closes with odes to youth. There's a ghostly Imogen Heap-like feel to the acapella intro track Young. The same energy pulses through the ruminative finale, Kids Again. Written with Ryan Tedder, Alexandra Tamposi, Andrew Watt and Louis Bell in Los Angeles.
The album title track Love Goes, was born from a session with Labrinth, Sam imagines the song as a duet between a lover and their ex. It's an understanding one, written with the clarity time can give us. They meet, sound out their grievances and reach the conclusion that "we're both as bad as each other". That, Sam has realised, is just the fate of the universe. How love goes.
To be both free and self-critical, feeling everything fully, is the eternal paradox of Sam Smith. Six years in music has shown us that, but on Love Goes, they find a playful sweet spot – one that celebrates dancing with tears in your eyes, and turns inward when it needs to most. "when I get in the studio, it becomes a sanctuary where I can be raw, and I'm okay with that.'
Love Goes is out now on digital platforms here.
LOVE GOES TRACKLISTING
Young
Diamonds
Another One
My Oasis (feat. Burna Boy)
So Serious
Dance ('Til You Love Someone Else)
For The Lover That I Lost
Breaking Hearts
Forgive Myself
Love Goes (feat. Labrinth)
Kids Again
BONUS TRACKS
Dancing With A Stranger (Sam Smith & Normani)
How Do You Sleep?
To Die For
I'm Ready (Sam Smith & Demi Lovato)
Fire On Fire
Promises (Calvin Harris & Sam Smith)