Queer reads: Will Young, Mariah Carey & Shaun Fuchs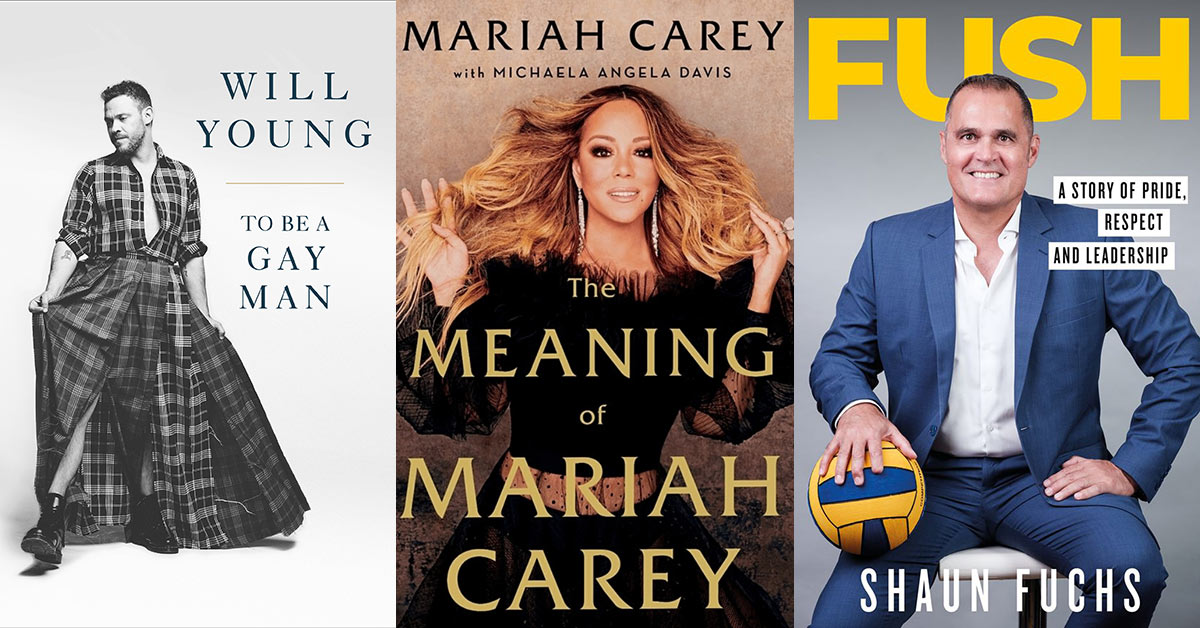 December is just around the corner, and many of us simply can't wait to, at last, sit back and relax with a gripping book in hand.
If you're in search of true literary abandon, look no further; these three recent releases – all queer-interest autobiographies by achievers in their fields – will have you engrossed within the first few pages.
To Be a Gay Man – Will Young
We first heard the name Will Young when the debut season of Pop Idol was broadcast in 2002. Dare we say, Young still looks as good as he did almost two decades ago – his first single Evergreen comes to mind. However, the longevity of this former reality TV star really becomes clear when one reads Young's new book, To Be a Gay Man.
As the title suggests, this autobiographical account especially recalls the way the singer and actor had to deal with homophobia – both internalised and from others. Among other horrific instances of ill treatment, Young remembers almost being outed publicly by a tabloid after winning Pop Idol, only to pre-empt said tabloid's scoop by telling his story to a different newspaper.
In the book, Young explores the influence that internalised shame surrounding his sexuality had in his life, and how he would later learn to accept himself wholeheartedly.
This is a read that will appeal to anyone still struggling to come to terms with their sexual orientation. Will Young digs deep and makes himself vulnerable in order to share a message of hope and of how coming to terms with who you are can help you to say, without flinching, that you are gay and happy.
Buy To Be a Gay Man here.
The Meaning of Mariah Carey – Mariah Carey
Mariah Carey is one of the gay community's most beloved cultural icons. Dubbed the "Songbird Supreme" by Guinness World Records, this singer is one of the best-selling music artists of all time, with her music seemingly known all across the world. With that being said, Carey has taken care to keep an air of mystery about her throughout her career.
While the songstress states that it took her "a lifetime to have the courage and clarity to write (her) memoir", The Meaning of Mariah Carey also provides a highly entertaining glimpse into the interactions of a member of music royalty. The book references plenty of other musical monarchs, and Carey opens up about her romatic relationships, the most notable of which perhaps her marriage to then-CEO of Sony, Tommy Mottola.
The Meaning of Mariah Carey is something every superfan needs in their bookcase – especially if you'd like to know more about the pop princess' single foray into the world of grunge and alt-rock, performing under the name Chick.
Fun fact: I did an alternative album while I was making Daydream 👀 Just for laughs, but it got me through some dark days. Here's a little of what I wrote about it in #TheMeaningOfMariahCarey 🤟 S/O to my friend Clarissa who performs the lead w/ me as a hidden layer #Chick #TMOMC pic.twitter.com/Re23t5whcd

— Mariah Carey (@MariahCarey) September 27, 2020
Buy The Meaning of Mariah Carey here.
Fush: A Story of Pride, Respect and Leadership – Shaun Fuchs
In a touching memoir, seasoned educator and the managing director of Reddam House Schools, Shaun Fuchs, elaborates on his life as a teacher, also telling tales of varied experiences, including being an infantry officer in the army, head of the SRC of the South African Student Teachers Union, and a provincial powerlifter, among others.
Fuchs has admirably taken the homophobia he faced in life in his stride, ultimately becoming an accomplished and much-loved educator to the hundreds of students that have passed through his classroom over the years. It was in learning to navigate how he could live his life openly as a gay man, it seems, that Fuchs was able to learn the lessons needed for creating inclusive environments where people feel safe, also in the classroom.
Speaking in an interview with the SABC about how to navigate issues surrounding sexuality, especially in terms of bullying, Fuchs says, "You have to be honest and transparent. For me, it's not just about a gay rights thing, it's about a human rights thing. We are human. We have the most unbelievable Constitution, we have an incredible Bill of Rights, and all that I've done is live our Constitution. That's it, it's as simple as that, and that's the message that needs to go out."
This book is for every gay person who thinks that their sexuality might somehow hold them back in attaining personal and professional goals. A heartwarming and inspiring read.
Buy Fush: A Story of Pride, Respect and Leadership here.