Nakhane: It doesn't take much to turn me on
Exhale, a new ground-breaking queer African erotic anthology features the work of writers like South African singer, actor and author Nakhane Toure.
Published by Blackbird Books in partnership with HOLAA! (Hub of Loving Action in Africa), Exhale is a collection of stimulating short stories by exciting queer literary voices from Nigeria, South Africa and Zambia.
Not only a SAMA-winning musical star, Nakhane has also won awards for his lead performance in the culture-rattling film Inxeba (The Wound) and received acclaim for his 2015 debut novel Piggy Boy's Blues.
MambaOnline spoke to the UK-based artist about his contribution to the anthology, titled The Fool. In the seemingly biographical piece, the writer embarks on carnal research to write a short story for an erotic anthology.
What is, for you, the difference between porn and erotica?
I don't know if I'm right, but from a literary point of view, I do believe that erotica should do more than just titillate. Yes, the subject in both is sex, but erotica, erotic work I personally like, should aspire to reveal something more than bodies in coitus. I want something a little bit more psychological. I want to know who those people are. Whereas pornography's main (only) concern is to get the viewer off.
Is erotic literature something you read?
I've never particularly sought it out. But I prefer books that have unfettered representations of sex. My argument is this: there are people fucking everywhere and all the time in the world. You're going to write a novel and skip over this thing that almost everyone is doing? Technically sex is the banal. I'm very interested in the banal.
In our hyper-visual porn-forward world, erotic literature is probably not as popular as it once was. Do you think there's still a place for it today?
Yes. Just as all other literary genres still have a place. It gives to people agency, a part in the story. To create the story for themselves. Porn gives you everything.
What do you find sexy or erotic in art?
The imagination of the characters. What are their fantasies? What are they afraid of? What do they want to do desperately and yet never take the plunge to do?
How important is it that there is now a queer African erotic fiction anthology in the world?
It's imperative. If we don't write about it, then it is not recorded. Yes, there are many different ways of recording what people do, but I want all the mediums to be involved. I want art to represent our sex. I want art to not be ashamed of showing us having sex.
What does queer sexuality get right?
What I like though about queer sexuality is its sense of play and discovery.
In your story, The Fool, the writer is not given much choice by his agent, so why did you decide to write a piece for Exhale?
I live by "yes". Or more honestly, a shrugging "sure, I'll do it."
Does writing sexual scenarios turn you on while you're writing them?
Oh yes. Having said that, it doesn't take much to turn me on.
"I want queer characters who are full human beings."
I could relate to The Fool because I've often been annoyed by own my inner fantasy life crashing headfirst into reality…
I think one of the things that have happened with porn being so accessible is that our fantasies have become so chosen for us because on some level porn has become very similar. You watch so many similar images that you end up thinking that you want them, until you try them, or you're in a situation where you are allowed to try them. Suddenly you are reminded that porn is not real. Your body betrays you.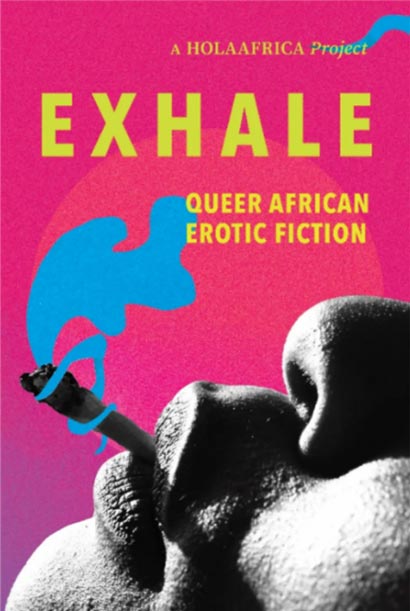 Your piece deals with being sexually dominated. It's tricky considering our histories and continuing inequalities (race, gender etc.) but do you think it's an integral part of eroticism?
Domination is a tricky subject to broach for the reasons you've listed. I don't think it's integral, but I do think that it can be attractive to people. Animals like to dominate. We are animals. And sex is one of the few things that we do that reminds us how closely linked we are to other apes.
There's sometimes a push against sexualising queer identity out of this sense that that the sex part of being queer has been overemphasised by our opponents. How would you respond?
I understand where that point comes from. But only from queer people. I'm not interested in what our opponents have to say about us. I do not factor it in on my decisions or what I value. Are queer people more sexualised in and of themselves? No. Does the media paint us overly-sexualised beasts who can't control themselves, who have to be feared? It has and sometimes it still does. But that's an agenda.
I want queer characters who are full human beings and who are not ashamed of themselves.
Exhale also features the work of Mercy Thokozane Minah, Mubanga Kalimamukwento, Fiske Nyirongo, Lawrence Mashiyane, Tshegofatso Senne, Akou Midadje, Cisi Eze, OluTimehin Adegbeye, Kabelo Motsoeneng, Lady Nwadike, Yvonne Ethagene and Von ZiGo. 
You can purchase Exhale online here and in selected bookstores.