Covid vigilante is shaming gay partygoers on social media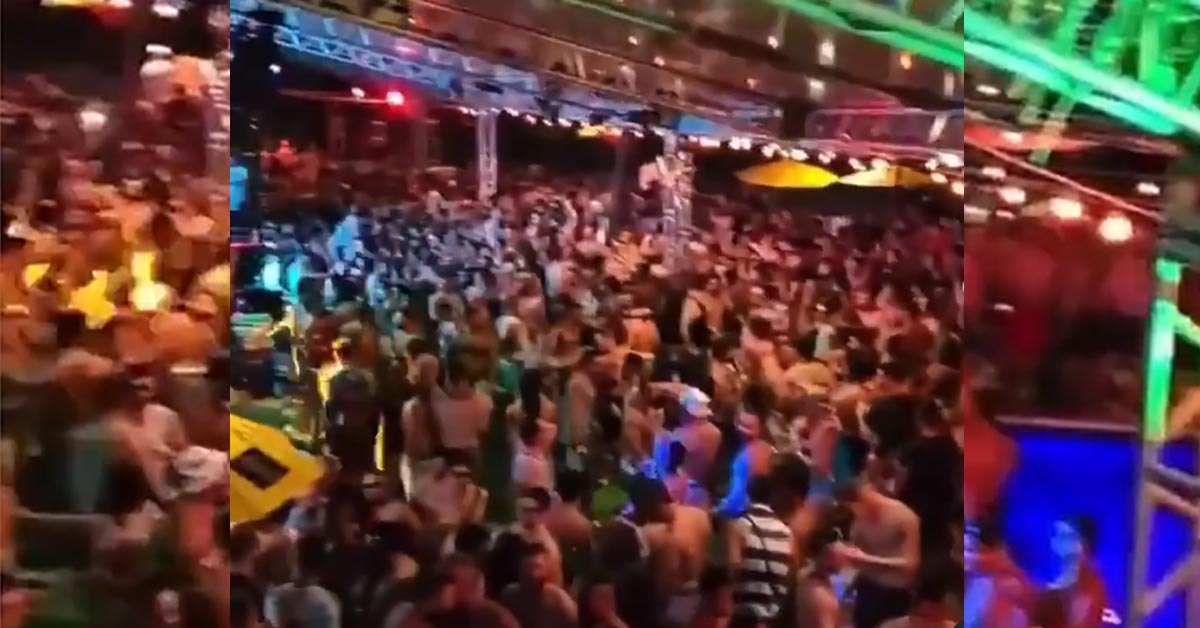 A Covid vigilante Instagram account is dividing the LGBTQ community by naming and shaming gay partygoers who attend potential super-spreader events.
GaysOverCovid has been posting pictures and videos of partying crowds or individuals around the world in an effort to call out gay revellers and tourists for putting their lives and those of others at risk.
The anonymous gay "Covid vigilante" page came back into the spotlight after the recent furore over a huge New Year's Eve circuit party held in Mexico, which has been struggling to contain the coronavirus.
Gay circuit parties are often associated with drug use and chem-sex that may lead to impaired judgment and risky behaviour. In March 2020, the Winter Party Festival in Miami was deemed a Covid-19 super-spreader and was linked to numerous infections and three deaths.
The packed New Year's Eve event in the Mexican state of Nayarit, during which most people (believed to largely be Americans) reportedly did not wear masks, was hosted by Jeffrey Sanker, a well-known gay party organiser.
The lavish bash was originally set to take place in the neighbouring state of Jalisco, but Sanker moved it to avoid that's state's more severe Covid-19 restrictions.
Ahead of the event, one reveller told the Los Angeles Blade: "The best party with the hottest sex will be held at an estate in Puerto Vallarta and I'm going. I don't have Covid. Like, I can't infect someone with something I don't have." He added: "If I get it I'll let you know, but who cares. I'm 23 years old and a girl's gotta live."
Sanker earlier told guests that they were not allowed to take photos or videos during the party in an effort to avoid criticism from the public and media.
The GaysOverCovid account, which now has over 120,000 followers, has been "outing" gay revellers since July. It's even named several gay health care workers who have allegedly been irresponsibly partying or gathering in social groups during the pandemic.
"Wear a mask. Stay home. Save lives. Don't join the GaysOverCovid," states the account bio.
While some have applauded calling out members of the community for taking part in high-risk events, others say that there's no justification for publicly shaming people or moralising about their behaviour and warned that it could even fuel homophobia.
One social media user slammed the GaysOverCovid account and offered a $500 reward to anyone who could identify the owner. "For so long they have been hiding [behind] the screen, trying to out fellow gays, making our community as divisive as ever… If they believe what they're doing is right, why be a coward and let us know who they really are."
Gay celebrity psychologist Dr Greg Cason, however, backed the Covid vigilante movement in a video shared on social media. He said that those who are naming and shaming "are not the problem" and compared the revellers to drunk drivers who put other people in danger.
He argued: "[The vigilantes] are staying inside. They are giving up everything and then they watch you, people who are going down to Mexico and going to party, and they're looking at you flouting public health recommendations, flouting what the CDC says, going and enjoying your own personal pleasure, using drugs, partying, having sex, whatever, with large groups. When they're staying home and suffering. They're choosing to protect the public good…
"There may be better ways to approach you people who went down to Mexico than public shaming, but if you do put your pictures on the internet, or pictures of you partying, having fun etc. What do you expect?" said Cason.
View this post on Instagram
View this post on Instagram
View this post on Instagram