SANBS explains controversial PrEP blood donation ban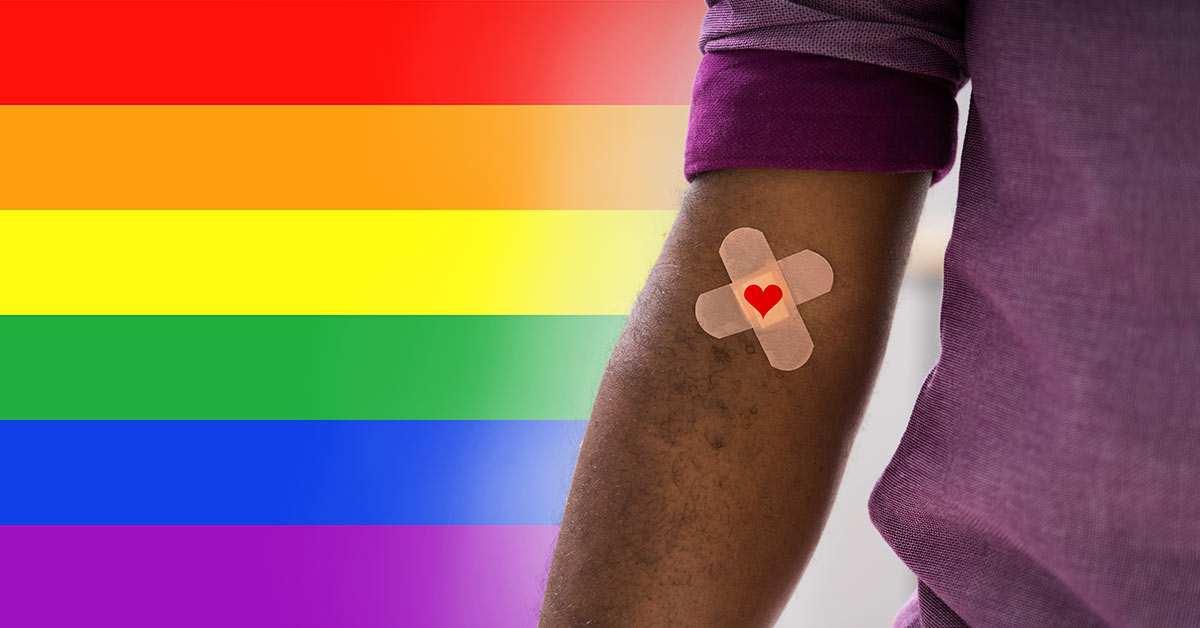 As it launches a new diversity campaign, the SA National Blood Service (SANBS) has insisted that blocking people on PrEP from donating blood is not meant to discriminate against gay men.
MambaOnline was recently approached by Daniel*, a member of the LGBTQ+ community who said he'd been turned away from donating blood because he'd used PrEP, the HIV prevention medication.
The rejection was triggering for him because of the SANBS's previous discriminatory ban on gay, bisexual and other men who have sex with men (MSM) from donating blood. That ban, dropped in 2014, was based on the belief that individuals in these groups were more likely to engage in risky sexual behaviours, thereby making them more likely to pass on HIV into the blood supply.
In 2014, the World Health Organization recommended that MSM use PrEP as an additional method of preventing HIV infection (it's around 99% effective if taken correctly). In South Africa, this daily pill is offered free to MSM through services such as OUT's Engage Men's Health and Anova Health's Health4Men.
As MSM are among the groups being urged to use PrEP to protect themselves from HIV, there's concern that the current deferral of PrEP users is a roundabout way to justify further discrimination.
The ban on PrEP users seems especially ironic as it appears to essentially stigmatise and discriminate against those who are most responsible for their sexual health and are thus most protected from HIV through their PrEP use.
"I was on [PrEP] medication for the mere fact that I did not believe that I should place my own sexual health in the hands of another person," Daniel told MambaOnline. "And hence, I was proactive enough to get on medication that protected me, regardless of what my sexual partner was getting up to. And I think that made my blood safe, safer than that of most people."
Daniel was at first informed that he'd be allowed to donate blood again six months after he stopped using PrEP. But when he contacted the SANBS after that period, he was told that he'd been banned for 30 years. Repeated engagements with SANBS failed to clarify why he'd been blocked for so long. Promises that a specialist would contact Daniel with an explanation came to nothing.
"I think for me, the biggest shock is that the ban was not well communicated to me. I felt excluded [and] I became very worried…I thought, 'is there something wrong with my blood, am I ill?'" said Daniel.
SANBS Communications Officer Khensani Mahlangu insisted that the PrEP ban is neither unfairly discriminatory nor based on any assumed sexual behaviours or identity but reflects legitimate medical concerns.
"There is evidence in the literature that PrEP may potentially affect the tests we perform to identify very early HIV infections. Because of this, we currently defer people using PrEP," said Mahlangu.
In an online conversation with MambaOnline, SANBS Lead Consultant Translational Research, Karin van den Berg further explained that the concern is that someone who does not use PrEP correctly (i.e. not taking the pills daily as prescribed) may not be fully protected and may become infected with HIV. Because the PrEP could then temporarily "hide" the infection in an extended window period, the HIV tests routinely conducted by SANBS on all donated blood may not pick up the infection.
Van den Berg confirmed that the chances of these kinds of "breakthrough infections" taking place appear to be small but the risk to the blood supply is still deemed too high. She added that more South African data on the impact of PrEP is needed.
"People take PrEP in various settings and should be applauded for doing so. And certainly, over time, as more information becomes available, we will review our policies to ensure that we remain as inclusive as we can be while being able to assure the recipients of our blood products that we have done everything reasonably possible to ensure the quality and safety of our products," said Mahlangu.
"All people – queer or otherwise – have the same relationship limitations on donating blood…"
Dr Eric Hefer, an HIV specialist, said that the benefits of PrEP "are unquestionable" but that he could not argue with the SANBS's concerns. While he had never seen PrEP failure in his patients "the possibility is a recognised risk." Thus far, there have been seven reported cases of biomedical PrEP failure in the world.
Hefer noted that the SANBS "remains one of the few quality and functioning healthcare delivery components" in South Africa "and that blood transfusion and blood products remain a precious and lifesaving treatment."
The SANBS also confirmed that a person may donate blood after having stopped taking PrEP for three months (provided they meet the rest of the usual donation criteria) and that the six months deferral initially communicated to Daniel was a mistake in their system that has been corrected.
"The SANBS strongly believes in embracing the diversity of the people of South Africa," said Mahlangu. She reiterated that there are no restrictions on donating blood because of the gender, sex or identity of a person someone has sex with.
Instead, all people – queer or otherwise – have the same relationship limitations on donating blood: They must not have had a new sexual partner within the last six months, must not have multiple, concurrent sexual partners and/or must not be in relationships where the sexual safety of their partner is uncertain.
As for Daniel's bizarre 30-year-ban on donating blood, the SANBS confirmed that this was another error, and that his restriction has since been lifted.
"The person who loaded the deferral code that resulted in blocking him from donating for 30 years (in fact indefinitely) added the code for donors who take ARVs routinely as opposed to the code for people taking [PrEP] short term. This is part of the deficiency in our system that we are busy correcting as we speak," said Van den Berg.
She contacted Daniel directly to apologise for what she said "appears to be really shocking service." While Daniel has grudgingly accepted the explanation and apology, he reiterated the importance of making sure that SANBS staff are educated about the PrEP restrictions and sensitised when it comes to dealing with members of the LGBTQ+ and MSM communities.
"My experience with the SANBC healthcare worker and how the issue got communicated was that there was a lot of shaming that I did not necessarily find to be appropriate from a healthcare worker," said Daniel. "And the inability for the SANBS to communicate [the reason for the] 'lifetime ban' was particularly worrying as I was unsure of where I stood in terms of my health."
Van den Berg said that the PrEP deferral will continue to be reviewed on an ongoing basis. "As soon as things have settled with the whole COVID situation, we will start extensive stakeholder engagements and qualitative research into the PrEP roll-out in South Africa and how best we, as the blood service, should deal with this in a manner that will ensure both the safety and the sustainability of our blood supply."
The SANBS recently launched a #NoStereotypes campaign "aimed at raising awareness and sparking conversation around societal issues attached to discrimination based on stereotypes which further separate South Africans."
The campaign is anchored by a thought-provoking film, which highlights some of the many stereotypes that exist in South Africa using real life people who have experienced moments of being stereotyped in their lives (watch below).
"One blood donation can save up to three lives and through the #NoStereotypes campaign, the South African National Blood Service hopes to promote blood donation and to demystify stereotypes that are currently breaking our society," said the organisation.
* Not his real name