Social media star Nadia Jaftha distances herself from homophobic brother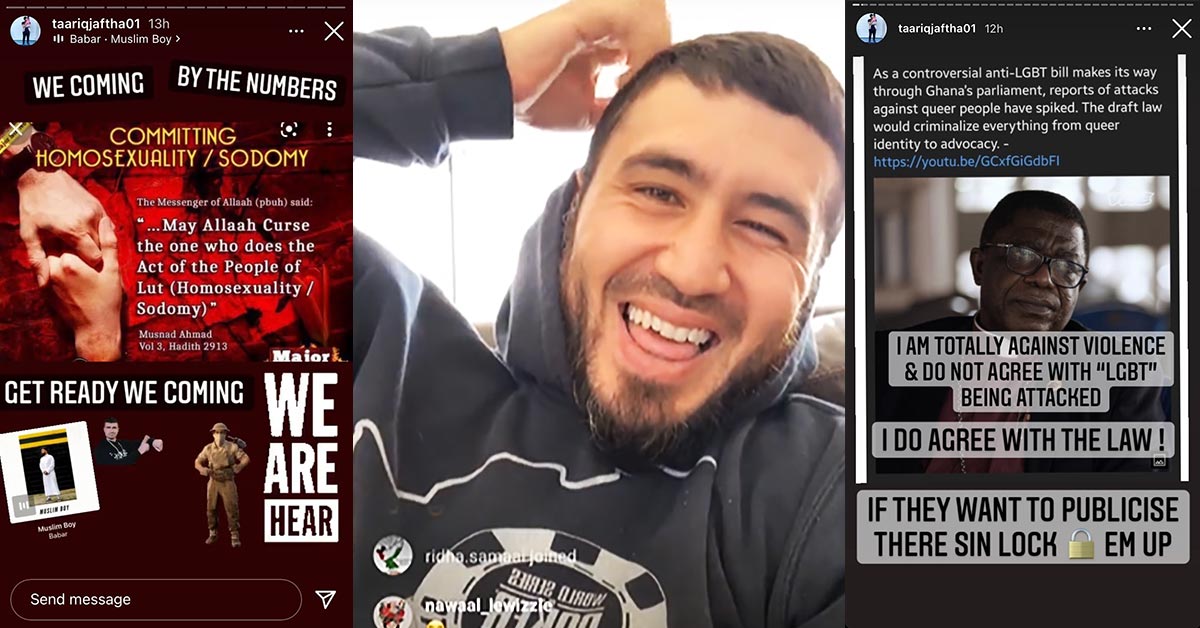 Nadia Jaftha, one of South Africa's top social media influencers, tells MambaOnline she does not agree with her brother's shocking online war of words against the LGBTIQ+ community.
This week, MambaOnline received emails and messages from members of the LGBTIQ+ community about a wave of videos and posts shared by Taariq Jaftha filled with anti-queer vitriol, despite claiming "that I'm here to spread peace and educate as much as I can."
Taariq is the brother of Cape Town fashion vlogger, singer and entrepreneur Nadia Jaftha, described as "one of South Africa's most successful influencers". Known for her humorous videos, the UCT graduate has a million followers on Instagram and TikTok and has been featured on shows like Top Billing.
It's a family business it seems. Her mother Nawal is also a social media blogger and her brother is following closely in their footsteps.
Taariq, however, has taken a hateful approach to his online content, especially over the last few days, calling LGBTIQ+ people sinful and sick, demanding that they keep their identity hidden and equating them to gangsters.
In one recent video, he says: "I'm not happy with the people that openly spread sin and call it LGBT… No, they must call it, 'I am a sinner.'"
Taariq, who is using his Islamic beliefs to justify his stance, also talks about people who claim to "renounce" their queerness.
"What do we say about those who are now coming to see the light from being gay, from being lesbian, from being transgender?" he asks. "What about those who are coming to see the light and say that way of life is the incorrect way? How do they then get treated? They get treated disgusting by their own people. So-called people… Why? Because they are not one of them anymore. Like gangsters, as soon as you pull out then you're a problem."
In another video, Taariq addresses the controversy he's caused through his queerphobia, reaffirming his views that LGBTIQ+ people are sinners for being who they are and for who they love.
"I'm sorry I offended anyone over the past two days… but I still stand firm on my point that I have nothing against gay, bisexuals, lesbians, transgender. I have friends and I know of people who are in that category but they are decent enough to keep it private. They are decent enough to say it's a problem that they are dealing with…
"But this is my message to those who openly commit it in public and expect the civilisation to accept that it is normal. I can't accept it as normal. Like me smoking or doing whatever I am doing which is sinful in my own way; I admit it and I say that I am wrong, [that] I'm trying to be a better person. On the other hand, they are saying it's right and they are born like that and they will do it regardless of what people think," said Taariq.
Speaking to MambaOnline on Tuesday, an emotional Nadia said she was appalled by her brother's posts. "I don't agree with what he is saying and to be honest I have not been in communication with him," she said.
"I wanted to make it clear that I am [an LGBTIQ+] supporter and I always will be. The last thing I want is for people to think that I agree with him. I haven't addressed it [on social media] so to not to bring more attention to it."
Nadia added: "I just believe in equality and that you can love anyone who you love, that's what I believe in, regardless of religion. I've had quite a vocal stance in the past."
She revealed that she and her mother have been receiving angry messages because of her brother's posts. "It's been a very difficult time for me. I've been getting a lot of mean messages. He has his own opinion and his whole family can't be responsible for what he decides to do on social media," Nadia said.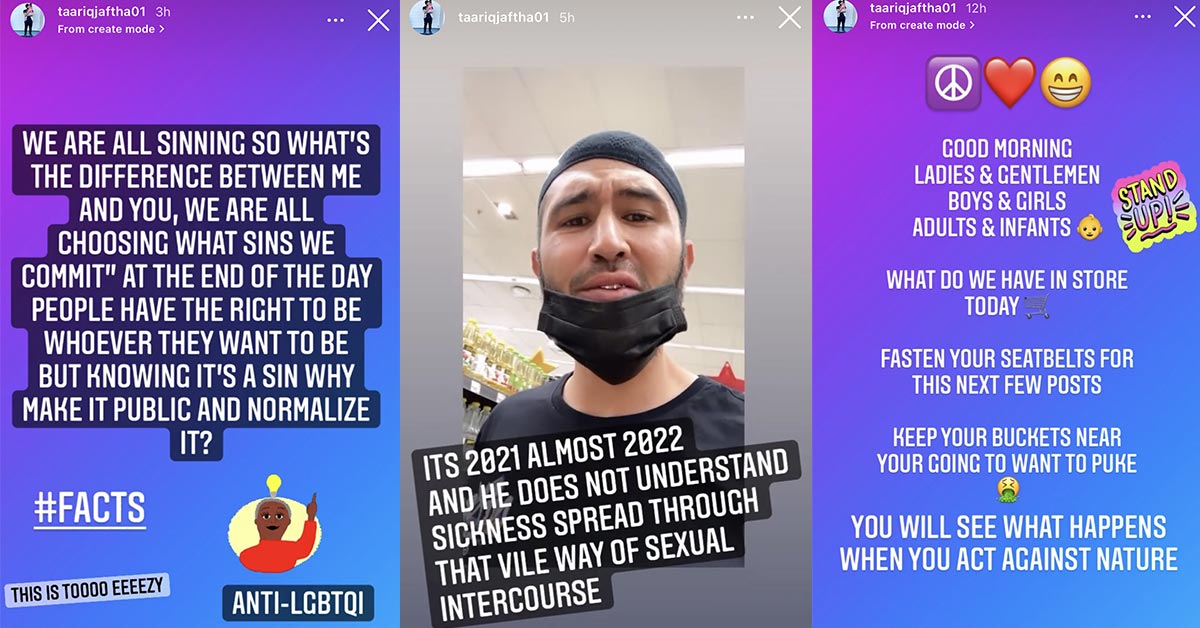 Meanwhile, Taariq has doubled down on his attacks against the LGBTIQ+ community, including sharing religious texts "cursing" gay people and expressing his support for Ghana's new anti-LGBTIQ+ bill.
In a post on Wednesday, Nadia finally commented on the furore on Instagram, without directly referencing her brother. "I don't see people as anything other than beings that our creator has put on this earth. I don't think it's fair that one dictates who another should love and how they choose to love and express that love."
Appearing to suggest that her brother's bigotry is simply a matter of "opinion", she continued: "I've always respected everyone's opinions and views on topics as we all go through this life with our own view. We might not agree with everyone's opinions or view. With that being said, I don't wish to be held accountable for the views of anybody affiliated with me."
Social media users can report Taariq for his dehumanising posts directly to the relevant social media platforms or to the SA Human Rights Commission here.
View this post on Instagram