Anger over ill-conceived LGBTIQ "inclusion" on SAPS form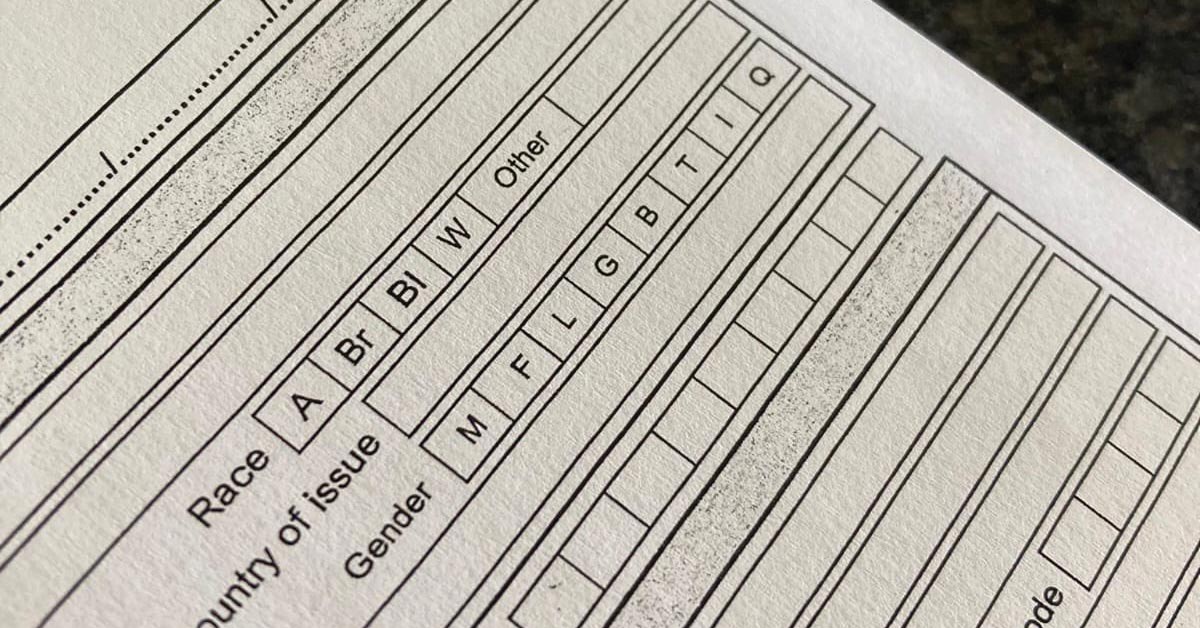 There's much frustration on social media over a misguided attempt by the SAPS (South African Police Service) to include LGBTIQ identities in its forms.
Users were left puzzled after a photo of the latest 3M(a) charge form used by the SAPS to register a complainant's personal details was recently posted on Twitter.
While the form's gender question previously only included male (M) and female (F) tick boxes, the form shown also adds lesbian (L), gay (G), bisexual (B), transgender (T), intersex (I) and queer (Q) options. (Interestingly, there is no heterosexual option…)
Although this might initially appear to be a progressive step in acknowledging LGBTIQ diversity, many have questioned why the full LGBTIQ acronym is included under the gender category.
It might make sense to add options like non-binary or transgender under gender, but lesbian, gay and bisexual identities are about a person's sexuality, not their gender. These are fairly basic concepts that appear to not be understood by those who compiled the form.
While some members of the LGBTIQ community admitted that the concept was flawed, they still viewed the updated form as a step in the right direction. "At least they have made some headways," argued an activist on a WhatsApp group.
Most, however, were angry about how carelessly the revision was conceived and implemented.
"This isn't good enough, this isn't cause for celebration. Understanding the difference between sexual orientation and gender is IMPORTANT," tweeted one person. Another described the move as "Trying to be inclusive with zero understanding what that means and to who."
A Twitter user commented: "This is embarrassing and showing a lot of intentional ignorance, how did they approve this document?"
A video of the form was also shared online, with the poster stating: "So I really wanted this SAPS form to be a tasteless joke but it's real, the forms are being used."
It does seem unbelievable that such an ill-conceived change was undertaken apparently without proper consultation with LGBTIQ civil society groups who would be well-placed to advise on these identities.
Ultimately, the form only serves to perpetuate more confusion about gender and sexuality among police officials as well as the general public. And, considering that the SAPS is a government service that is infamous for its discrimination and secondary victimisation of LGBTIQ victims of hate crimes, the new "gender" categories are simply insulting to our community.
so no one at this South African government office knows gender is not sexuality ? pic.twitter.com/1M2kqd7eCU

— the feminist. (@MhakaTinatswe) January 5, 2022
This isn't good enough, this isn't cause for celebration.

Understanding the difference between sexual orientation and gender is IMPORTANT.

I'd be more interested in knowing that the SAPS have rolled out mandatory sensitivity programs throughout the country. I want that. https://t.co/s8PTWPwb8q

— Tutu Zondo (@tutuzondo) January 5, 2022
Abafuni nyani, this is just another FU to us. Also, how do you put sexuality on a form of a Queerphobic institution like the SAPS???? HOW???

— Slayvuyile Vej (@Slayvuyile) January 5, 2022
So I really wanted this SAPS form to be a tasteless joke but it's real, the forms are being used 😭😭😭 Basifuna sifile 😩😩😩 pic.twitter.com/WN9gzT185C

— Slayvuyile Vej (@Slayvuyile) January 6, 2022
Well fact is most police officers do not know the difference between sexual orientation and gender identity expression. Shame! https://t.co/EuGUK6O4TL

— Izukanji Sichinga 🇿🇲🇲🇺🇿🇦🏳️‍🌈 (@Izu_musiq) January 5, 2022