SA LGBTIQ+ Rights Watch: June 2023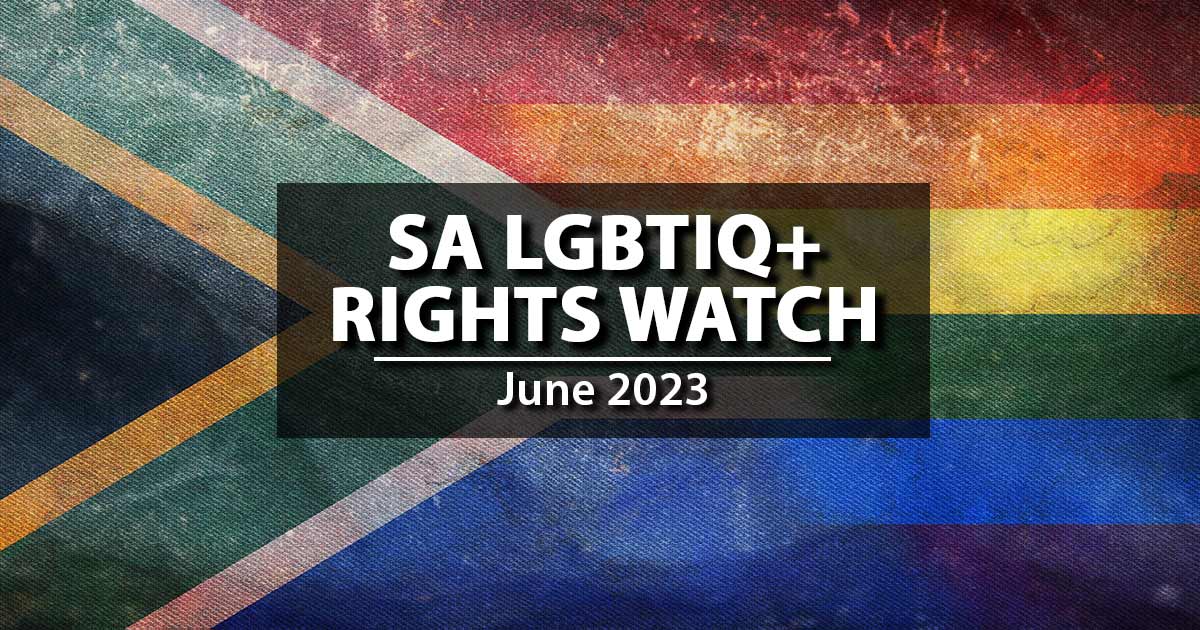 OUT LGBT Well-being and MambaOnline publish a monthly overview of reported LGBTIQ+ rights violations in South Africa, including hate speech. We also look at the status of cases making their way through the criminal justice system. Here is our summary for June 2023.
A distressed student at the University of Cape Town contacted OUT LGBT Well-being for assistance, alleging that her father was behind a campaign of intimidation and psychological abuse against her for being in a relationship with another woman. She claimed that he send her anonymous demands for money under the threat of exposing the relationship. The harassment led the student to contemplate suicide. After discovering that her father was allegedly behind the threats and blackmail, she obtained an interim protection order against him and several other people involved in the matter.
Access Chapter 2 (AC2) reported an incident in which a male Gqeberha metro police officer stopped and allegedly harassed a same-sex couple, inappropriately probing them about their relationship. While writing a fine, he allegedly commented that same-sex couples are satanic and those in these relationships must burn, adding that the couple would have been killed if they lived in Zimbabwe. It's further claimed that he told one of the women that she was "too beautiful to be gay." AC2 wrote to the Struanway Traffic Police Department calling for an investigation and immediate suspension of the officer for violating the couple's rights. The organisation said that metro police officials must also undergo LGBTIQ+ sensation training.
Woolworths faced backlash for its LGBTIQ+ Pride campaign, with bigots calling for a boycott of the company. They accused the retailer of trying to be "woke" and meddling in political issues. Some went as far as to falsely claim that Woolworths was attempting to sexualise or "groom" children into adopting "the LGBTIQ+ lifestyle." Reacting to the negative response, the company stood by its commitment to diversity and inclusion. Despite the backlash, Woolworths said it experienced high demand for its Pride apparel, with the products selling out on its online store.
The EFF (Economic Freedom Fighters) faced criticism for inviting Professor Patrick Lumumba, a known homophobe, to speak at their 10th-anniversary lecture at the University of Cape Town (UCT). Lumumba has expressed support for Uganda's Anti-Homosexuality Law and has made derogatory statements about the LGBTIQ+ community. This move contradicts the EFF's professed allyship with the LGBTIQ+ community and their opposition to the Ugandan legislation. Critics, including UCT students and academic staff, argue that allowing Lumumba to speak promotes homophobia and sends a message that LGBTIQ+ individuals are not valued or safe. They have called on the university to rescind permission for the lecture.
Al Jama-ah, a homophobic political party, demanded the exclusion of LGBTIQ+ groups from providing input on South Africa's revised White Paper on Family Life, stating that they should "stop imposing their practices on society." The party supports promoting "traditional" family structures that do not recognise LGBTIQ+ families. They also criticised Woolworths for its Pride Month campaign and accused the Western Cape Education Department and the DA of embracing "the LGBTQI+ agenda".
The president of the obscure Truth and Solidarity Movement Party, Mehmet Vefa Dag, sparked outrage on social media with threats to vandalise Cape Town's rainbow crossing. Dag called for supporters to paint over the rainbow crossing and urged Cape Town's mayor to remove LGBTIQ+ colours from the roads. However, his attempt to rally supporters failed, with no one joining him at the crossing. Instead LGBTIQ+ individuals and their allies gathered there in solidarity. Drag queen Stella Rose made a statement by walking across the crossing in a flamboyant rainbow dress.
Power expo company, KragDag used their email business newsletter sent out during Pride Month to express homophobic views, condemning the LGBTIQ+ community as unnatural and ungodly. In the newsletter, the owners of KragDag criticised Woolworths' Pride Month campaign and expressed support for a boycott of the company. They claimed that transgender and gender-diverse individuals were victims of gender obsession and disregarded the Lord's spiritual and social laws. The company received defiant responses on their Facebook page, with many expressing support for the LGBTIQ+ community.
A queer teenager named Bruce Shaba is believed to have died by suicide in Limpopo, South Africa, following alleged anti-LGBTIQ+ abuse. Reports suggested that he experienced rape, assault, and bullying, which led to his tragic death. The police confirmed the suicide and opened an inquest docket to investigate the incident. The teenager's friends and community members expressed shock and heartbreak over his passing, questioning the circumstances surrounding his death.
A Pew Research Center survey suggested that attitudes towards same-sex marriage in South Africa have become more hardened, with a growing majority of South Africans opposed to marriage equality. While South Africa is the only country in Africa where same-sex marriage is legal, the survey revealed that most South Africans still oppose it. While there was a small increase in support for marriage equality, there was a more significant increase in opposition to same-sex marriage, suggesting that people who were previously neutral have taken a stronger stance.
OUT LGBT Well-being allocated a portion of the funds received from a settlement in a hate speech case involving Steve Hofmeyr to support Sibanye LGBT, a non-profit LGBTIQ+ organisation in the Eastern Cape. OUT donated R20,000 to assist Sibanye LGBT in maintaining its operations, covering rent, and other costs. Sibanye LGBT provides HIV-related services and advocates for the local LGBTIQ+ community in Uitenhage. OUT plans to allocate the remaining funds to other crucial initiatives and projects supporting the LGBTIQ+ community.
In a landmark ruling, the Constitutional Court of South Africa declared a section of the Children's Act unconstitutional, granting same-sex couples automatic parental rights and responsibilities for children conceived through in vitro fertilisation (IVF). The court found that excluding unmarried permanent life partners from these rights constituted unfair discrimination based on marital status and sexual orientation. The court ordered the amendment of the Children's Act within 24 months to include permanent life partners, regardless of their sexual orientation or marital status.
Have you experienced or witnessed an LGBTIQ+ rights violation such as a hate crime, hate speech or any other kind of LGBTIQ+ discrimination in South Africa? If you'd like to bring it to the attention of the LGBTIQ+ community, email info@mambaonline.com. 
If you need free support and/or legal advice on your LGBTIQ+ rights, please email OUT at report@out.org.za.
Access LGBTQI+ health, legal and other support services, and get information about your rights, gender and sexuality by dialing *120*72524# on any cellphone. *60c a minute.