Sweet! Cadbury SA applauded for gay inclusive ad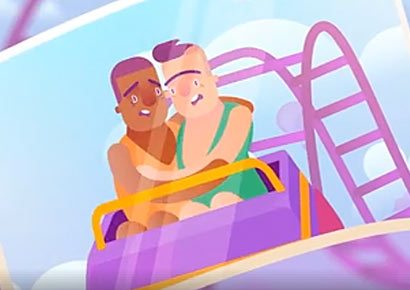 A short but sweet inclusive animated video on the Cadbury P.S. chocolate bar Facebook page has not gone unnoticed by the LGBTQ community.
The video shows two men on a roller-coaster ride who end up embracing at the end, with the proclamation: "P.S. Big Hugs."
The descriptive text below the video states: "Our favourite part of the festive season? Spreading the love…"
Since being posted a week ago, the clip has gone viral with over 100,000 views and more than 800 likes.
Nicholas Charles van Jaarsveldt, who let us know about the ad, said: "Sure, it's just a chocolate, but it's a big step for a South African company, especially a well known one. I thought it was really touching."
He added: "I like to support companies that support their consumers and I want to show companies that have our backs that we have theirs as well. It's not just a marketing stunt, it's a sign of inclusion and respect."
The video received a slew of mostly positive comments. Thulane Hadebe wrote: "Wow wow wow!!! This is so amazing! Thank you so much Cadbury PS Bar for doing something that might seem so small to some but monumental to others. It is so phenomenal to see that you celebrate diversity and show that love is love."
Cadbury replied: "Hey Thulane so happy to see that the post resonated with you. Love is love and we think #youreawesome…"
There were, unsurprisingly, a few naysayers, such as Mlungisi Dalisu Sithole who asked: "Why did you pick two seemingly homosexual males for this ad? What does that have to do with chocolate?"
Despite South Africa's progressive constitution, it is rare for mainstream brands and corporates to publicly show support for the LGBTQ community.
In October, Starbucks South Africa celebrated LGBTQ Pride month in Gauteng with its "Pride in a Cup" campaign that included in-store posters and signage that featured the rainbow flag.
Mambaonline reached out to Cadbury about the video and it replied with the following statement: "We live in a diverse community and it is our belief that we should all try to live inclusively. We are glad to see that the post was well received."