Rainbow flag used to link LGBTQ community with pedophilia
Homophobic bigots and trolls are continuing to use 'fake news' and dangerous stereotypes to claim that the LGBTQ community is accepting and promoting pedophilia.

According to reports, a poster appeared around the Willamette Primary School in Oregon last week, with a silhouette of a man and a child holding hands against a rainbow background. The poster included the statement: "Pedophiles are people too. Because love is love."
Internet trolls, mainly from the United States, are said to be piggybacking on the stereotype of gay people being abusers, and maliciously associating the LGBTQ community with sexual predators.
And many are quick to fall for these claims and spread them on social media. American actor, James Woods, for example, tweeted the image on his account, with the caption "And so it begins…"
And so it begins… pic.twitter.com/ku6FQpBbAO

— James Woods (@RealJamesWoods) July 31, 2018
A number of campaigns aimed at maliciously targeting the LGBTQ community have surfaced since the beginning of the year. False reports assert that the community is planning on adding the letter "P" to "LGBTQ", to represent pedosexuals.
The latest fraudulent poster seems to be part of a 4chan misinformation campaign that began with a 23 June 2016 thread about tricking LGBTQ activists into supporting pedophiles.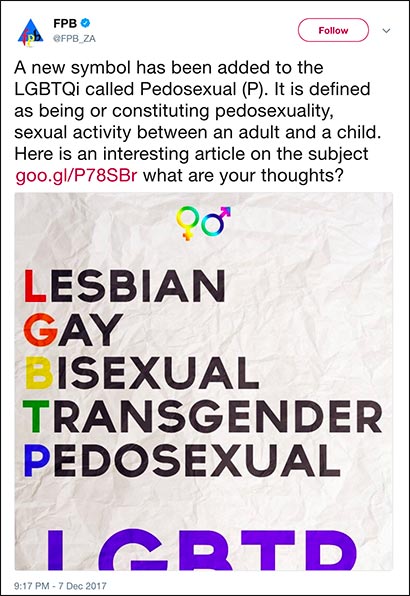 These allegations have even been spread in South Africa. In December last year, the Film and Publications Board (FPB) angered the local LGBTQ community when it too warned that pedophelia would be recognised as a sexual orientation.
"A new symbol has been added to the LGBTQi called Pedosexual (P). It is defined as being or constituting pedosexuality, sexual activity between an adult and a child. Here is an interesting article on the subject… what are your thoughts?" the organisation tweeted alongside an image.
The tweet was quickly deleted and the FPB issued a statement apologising "for posting a tweet of a 'fake news' article that infers that the LGBTIQ community condones pedophilia within the community".
The board's media spokesperson, Monala Bontolo, said that it tweeted out the hoax article because it was joining in on a greater conversation that was happening in the US and to also raise awareness around the issue of pedophilia.