DA COUNCILLOR WINS MR. GAY SA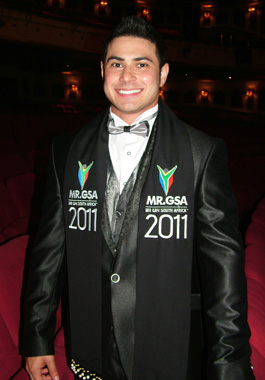 Mr. Gay South Africa 2011 Lance Weyer
Lance Weyer, a Democratic Alliance councillor from East London, scooped the title of Mr. Gay South Africa 2011 in Johannesburg on Saturday night.
Weyer is a Representative Councillor in the Buffalo City Metropolitan Municipality in the Eastern Cape for the DA and serves on the Health and Public Safety Standing Committee as well as the Special Programs Strategic Committee.
The 24-year-old was one of the audience favourites at the Mr. Gay South Africa Grand Finale show at the Lyric Theatre at Gold Reef City on Saturday night.
During the well-attended ceremony, hosted by Cathy Specific and Frank Malaba, Weyer also walked away with the Bone Wear Underwear Model prize and was further honoured for having received the most votes from the public.
In his finalist profile on the Mr. Gay South Africa website, Weyer said: "Mr Gay South Africa isn't just about being a pretty face, it's also about finding a representative for the community who can help to bring about change. I'd like to be Mr Gay South Africa 2011 as I'd like to be a role model to South African LGBTI youth."
Weyer told Mambaonline that he was ecstatic about his win. "I'm excited. I'm honoured. I think I'm still in shock. Please ask me again tomorrow when I can think again," he said good-naturedly.
He added that he had been convinced that the title would be taken by fellow finalist Alexander Steyn, who came second in the competition and was also one of the favourites of the audience.
Before awarding Steyn his runner-up title, Mr. Gay South Africa Director Coenie Kukkuk explained that Steyn would be officially known as the 'Deputy Mr. Gay South Africa 2011'.
Steyn is 29-year-old architect, singer, dancer, actor and artist from Johannesburg who says that he is committed to "speak out against hate speech and homophobia".
Casper Bosman, a 28-year-old fashion designer from Bloemfontein, placed third.
The winners were chosen through a combination of various rounds of judging, SMS votes from the public as well as their performance on Saturday night.
Weyer will represent South Africa in the upcoming Mr. Gay World 2012 competition, which will be held in Johannesburg next April.
Saturday's event was attended by representatives from Mr. Gay World, including CEO and President of Mr. Gay World Erik Butter, who expressed their enthusiasm for South Africa's hosting of the 2012 competition.
In the previous two years that South Africa participated in Mr. Gay World, the country's representatives, Charl van den Berg (2010) and Francois Nel (2011), went on to win the global title.