REGRET THAT FOOTBALLER RETIRES AFTER COMING OUT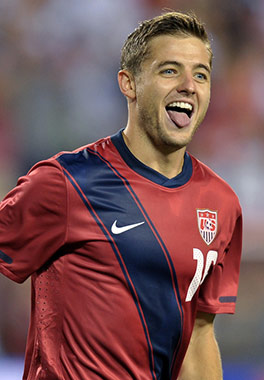 Robbie Rogers
While footballer Robbie Rogers has been applauded for coming out last Friday, some say that his decision to retire while doing so means that homophobia remains alive in the sport.
The American-born Rogers (25), who played for the US national team and most recently for Leeds, posted a statement on his website telling the world that he has been hiding the fact that he is gay.
"For the past 25 year I have been afraid, afraid to show whom I really was because of fear. Fear that judgment and rejection would hold me back from my dreams and aspirations. Fear that my loved ones would be farthest from me if they knew my secret. Fear that my secret would get in the way of my dreams," wrote Rogers.
"Dreams of going to a World Cup, dreams of The Olympics, dreams of making my family proud. What would life be without these dreams? Could I live a life without them? Life is only complete when your loved ones know you. When they know your true feelings, when they know who and how you love.
"Secrets can cause so much internal damage. People love to preach about honesty, how honesty is so plain and simple. Try explaining to your loved ones after 25 years you are gay. Try convincing yourself that your creator has the most wonderful purpose for you even though you were taught differently. I always thought I could hide this secret."
Rogers went on to suggest, however, that being gay and a footballer are incompatible. He also appeared to announce his retirement from the sport.
"Football was my escape, my purpose, my identity. Football hid my secret, gave me more joy than I could have ever imagined… I will always be thankful for my career. I will remember Beijing, The MLS Cup, and most of all my teammates. I will never forget the friends I have made along the way and the friends that supported me once they knew my secret. Now is my time to step away. It's time to discover myself away from football," he said.
Rogers' announcement about his sexuality was widely welcomed by the public and his former teammates, with a flood of messages of support being posted on social media.
Veteran American footballer star Eddie Pope applauded his courage, tweeting "Brave men like you will make it so that one day there's no need for an announcement. That day can't arrive soon enough. #support"
Sacha Kljestan, a member of US Men's National Team commented: "100 percent love and support for one of my best friends Robbie Rogers. You will be missed on the pitch. Amazing talent, amazing person."
Had he continued to play, Rogers would have become the world's only openly-gay active professional footballer. Instead, it's been reported that he's begun working as a writer for the UK edition of Men's Health magazine.
Writing for the Los Angeles Times, Ian Rodgers commented: "Rogers has made a brave move by declaring his homosexuality, but his decision to immediately retire from football serves only to underline that homophobia is alive and well in men's football."
Seth Vertelney from Goal.com wrote that "Rogers didn't make the giant leap forward many would've hoped. But what he did do was take another step in the long, slow march towards equality," adding "That, in and of itself, is enough. And Rogers owes us nothing more".
Gordon Taylor, chief executive of Britain's Professional Footballers' Association told Press Association Sport: "I'm pleased that Robbie's come out for his own sake. We do have players who've said that, while they are gay, they don't feel comfortable enough to come out. If there is abuse, that needs to be dealt with by all the football family."
In 2011, Swedish football player Anton Hysén came out as gay. However, he has only played for minor sides and does not currently play fulltime.
The only previous openly-gay professional footballer was Britain's Justin Fashanu, who came out in 1990 and committed suicide eight years later.