Cape Town Pride 2015: Your one-stop guide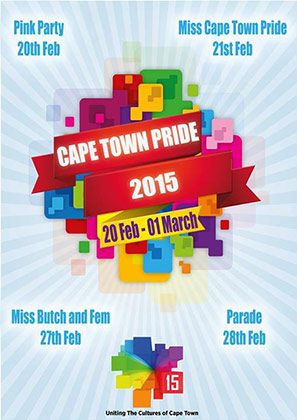 It's time once again for Cape Town's LGBTI community to take to the streets to celebrate Pride.
The Cape Town Pride 2015 festival takes place from 20 February to 1 March and will, as always, feature a series of diverse events.
The most anticipated and visible event, of course, is the annual parade which is set to turn the city pink on Saturday 28 February.
The Theme
This year Pride will 'Return to the Rainbow'.
The theme was chosen "to remind all Capetonians of their very special role in, and the contribution they can make towards, the Rainbow Nation and the promotion of human equality."
The Events
Fri 20 February: Cape Town Pride Festival kicks off with a street Pink Party in De Waterkant (Coburn and Napier Streets). Tickets costs R30 and give you entry to all the participating bars and clubs (R20 surcharge at Crew). 8pm till late.
Sat 21 February:

The Two Oceans Aquarium plays hosts to

Miss Cape Town Pride. The pageant starts at 8pm and tickets costs R60 (general access) and R120 (VIP). Applications to enter the pageant can be submitted on the Cape Town Pride website.
Sun 22 February: A Sports Day and Beach Picnic will be held at Camps Bay from 3:30pm. Entrance is free, but donations are appreciated.
Tues 24 February: A movie night at the Pink Flamingo open air theatre (Grand Daddy Hotel) from 8 for 8.30pm. R70 entry.
Wed 25 February: The Pride Bookcase at the Alexander Bar, 76 Strand Street at 7 for 7.30pm. Free entry.
Thur 26 February: The show Divas, Dames and Drags is on at Beaulah Bar from 8 for 8.30pm. Entry is R60.
Fri 27 February: You're invited to party with the newly crowned Miss Cape Town Pride and King of Queens at Beaulah Bar. 7pm for 7:30pm. Entry is R60.
* The Millionaire's Ball charity gala dinner, which was scheduled for Monday 23 February, has been replaced with an online auction, with the proceeds going to Cape Town Pride. For more information, go to the Facebook event page.
The Parade
The highlight of the festival, the Cape Town Pride Parade starts at 12pm in front of the Green Point Traffic Department on Saturday, 28 February. Proud LGBTI community members, their friends and family members as well as companies that support equal rights are invited to participate.
The Parade After-party
The parade ends with a street party mardi gras encompassing Napier and Coburn Streets. Tickets cost R40 per person.
Floats & Stalls
Each float costs R250 to be entered into the parade, while stalls costs range from R300 to R600. Applications can be done on www.capetownpride.org.