Brave young gay illustrator showcases gay relationships in history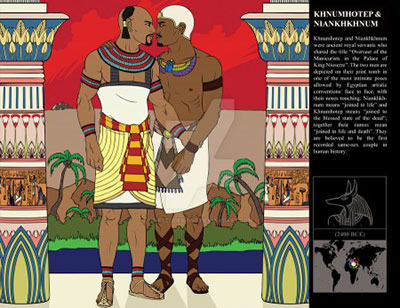 Depicting his imaginative and lively portraits in dynamic line and bold, graphic novel-esque colours, amazingly talented gay artist Ryan Long tackles a very taboo subject indeed: gay relationships in history and mythology.
This is certainly not the mythology your Mom read you as a child; two ancient Egyptian royal servants are shown nose-to-nose in an intimate pose, the Bible's David and Jonathan caress in the presence of the giant Goliath's severed head.
In another piece, the Han Emperor of China, Ai, slices his robe's sleeve off to avoid waking his lover, Dong Xian.
These moments of closeness and tenderness between historical and mythological characters show us a glimpse of homosexual love through the ages, giving us a connection to people in the past, and open another avenue for not feeling isolated or alone.
Ryan's art gives a wonderfully fresh perspective on times that're usually seen only through the dry-as-bone lens of history studies, and bring to life the inspirational reality that being gay is a natural aspect of life and always has been.
See more of Ryan Long's gorgeous artwork at his DeviantArt Page.