Soweto Fashion Week web designer stands by anti-gay comments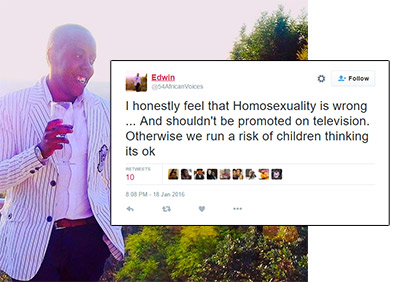 The head of the Johannesburg company that designed the Soweto Fashion Week website has taken to social media to slam gay people as immoral, unnatural and more likely to be child molesters.
Edwin Mbugua, Head of web development at E&A Web Design Lab, was driven to his homophobic diatribe on Twitter after he saw a post by entertainer Moshe Ndiki announcing that he'd landed a job as a continuity presenter on MTV.
What got Mbugua really riled up, however, was the image of a shirtless and pouting Ndiki wearing a pink feather boa, which he deemed to be "promoting" homosexuality.
Under his Twitter username @54AfricanVoices, he stated that, "I don't think we should be promoting homosexuals on our Televisions. Such behaviour should be behind closed doors", and also asked, "Are these kind of role-models our children should look up to?"
In an ensuing fiery debate about homosexuality with followers and critics, Mbugua asserted that he wasn't homophobic but simply felt that that "we [shouldn't] have to endure such behaviour."
Mbugua went on to say: "I honestly feel that Homosexuality is wrong … And shouldn't be promoted on television. Otherwise we run a risk of children thinking it's ok."
Another comment was, "It would be so refreshing if Homosexuals acted in a Normal manner as opposed to pretending to be female."
He justified his stance by making discredited and wildly inaccurate claims such as that, "Homosexuality injures the fabric of society, especially children", "Homosexuality does not offer the stability of a traditional family", and "Homosexuals have a much higher rate of molestation than Heterosexuals."
Mbugua further argued that allowing "homosexual couples to adopt children puts the children at greater risk of molestation", and that the "agenda of same sex marriage proponents is to redefine marriage altogether which undermines the most stable form of marriage."
Mbugua cited right wing and anti-gay Christian website WorldNetDaily, which ironically has also been accused of racism and white nationalism, as a source for some of his "facts".
Mambaonline spoke to Mbugua, who confirmed that he was behind the remarks. "I do stand by what I tweeted", he said over the phone, while insisting that "I'm not attacking anyone personally."
In a bizarre follow-up e-mailed statement, Mbugua said he wanted to "apologize to Moshe and to the Gay community if they were offended by my remarks", and asked, "Please accept my sincere apology for the remarks, I should not have shared them publicly."
Mbugua, however then proceeded to again re-state his bigoted views, writing that while "all South Africans and Africans are welcome to practice homosexuality… that doesn't make it right."
He said that homosexuality is immoral, that "nobody is born gay" and that homosexuality is not "not genetic" because "if that was [the] case, homosexuals would all have children that are also gay from birth."
Mbugua concluded by comparing same-sex marriage to incest. "Keeping same sex couples from marrying is keeping them from discriminating against normality. Anymore than anyone feeling discriminated against because they can't marry their own sister."
According to Mbugua's company's online portfolio, he was behind the creation of the Soweto Fashion Week website. The company is also credited as such on the website.
Mambaonline has as yet been unable to reach Soweto Fashion Week for comment about their supplier's views on the gay and lesbian community.
Last week, social media was outraged after a South African Twitter user, who is yet to be identified, glorified raping lesbian women and killing gay people in series of hate speech tweets.
UPDATE: Soweto Fashion Week has distanced itself from Mbugua's comments. Details here.