Soweto Fashion Week distances itself from anti-gay web designer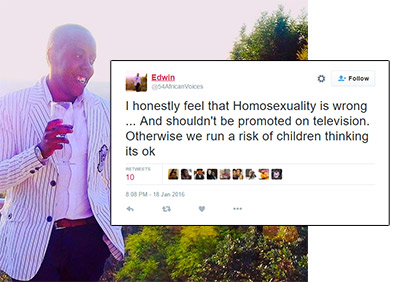 Soweto Fashion Week has finally distanced itself from its web designer, Edwin Mbugua, after he attacked gay vlogger and MTV presenter Moshe Ndiki and the gay community in a hateful twitter rant.
In an e-mail to Mambaonline on Friday, Stephen Manzini, the Founder and MD of Soweto Fashion Week (SFW), said that Mbugua's comments do "not reflect our views in any way."
He added: "We as SFW distance ourselves from them. Our team comprises of homosexuals and it would be absolute prejudice to speak or act against them in any way or form."
Manzini pointed out, however, that Mbugua is one of the organisation's "service providers" and insisted that "with all due respect his personal opinions have got nothing to do with us."
Ndiki, who was the initial subject of Mbugua's homophobic tirade, told Mambaonline that this simply wasn't good enough. "Soweto Fashion Week should pledge not to do business with him again," he said.
"If he was an outright white racist they wouldn't do business with him. Now its homophobic, so why is it different? It should be seen in the same light. Why is race a fight for all but homophobia it is a fight for some?" Ndiki asked.
He also affirmed his rejection of Mbugua's statement "apologising" for causing offence but still maintaining his view that gay people are immoral, unnatural, more likely to be child molesters and should not be seen on TV as this "promoted" homosexuality to children.
"That apology was bullshit," said Ndiki, who revealed that he is consulting his lawyers to see what kind of action he could take against Mbugua.
He also demanded that Mbugua issue a proper public apology and said that he was considering organising a protest march to the web designer's offices in Rosebank.
Mbugua criticised the entertainer earlier this week on Twitter after he saw a picture of a shirtless and pouting Ndiki wearing a pink feather boa announcing that he landed a job as a continuity presenter on MTV.
Under his Twitter username @54AfricanVoices, Mbugua stated that, "I don't think we should be promoting homosexuals on our Televisions. Such behaviour should be behind closed doors."
He went on to rage against gay people as likely child molesters, said that same-sex couples should not be allowed to marry and compared same-sex marriage to incest.
Mbugua e-mailed Mambaonline on Wednesday, writing: "I've deleted all the offensive tweets. I hope it makes things better." His Twitter account can no longer be accessed.