SA band GoodLuck talk about their new gay love story music video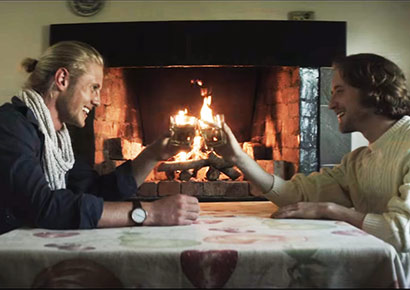 Popular South African electronic music band GoodLuck's latest music video features a gay love story between two men.
In the clip for the song Thinking About You, a cover of the 1990 Londonbeat hit, a man lies in bed and reminisces about his love affair with another man, which appears to have come to an end.
He then returns to the place where they shared a romantic countryside escape in a bid to relive the feelings and memories of those good times.
The band's Juliet Harding spoke to Mambaonline from Europe, where the band is touring and working on new music, about the video.
Who directed the video and where was it shot?
Stephen Du Plessis directed the video with his company 3plus3 Post Productions and it was shot by Fabian Vettiger, who is an incredible director of photography. It was shot on a beautiful guest farm near to Elgin and the city scenes were shot in and around Cape Town.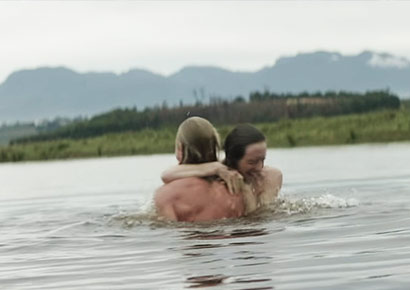 Whose idea was it to feature a same-sex couple in the video?
It was a combination between ourselves (the band) and the director Stephen Du Plessis. We were both excited about the concept and luckily it was something we both thought was very right for this song. We sat down with our director and had a creative meeting about what the song was about and where we could take the visuals and as soon as someone mentioned that the theme could be based around a same-sex love story we all got shivers down our spine… we knew this was the story that had to be told with this song.
What was the thought behind featuring the same-sex couple?
We really wanted to make a video that would expose a same-sex love story that was real, honest and beautiful. So often, gay relationships are portrayed to be something that they are not to the general public. It seems the world is still getting used to the idea of same-sex couples and we just wanted to tell the story of same-sex love in a way that any human with a heart could relate to. At the end of the day we have all loved and lost and missed a person…
What kind of statement did you want to make through the video?
That love is love. No matter who you love or choose to spend your days with it is always beautiful because it is love. We all wish we lived in a more tolerant and accepting world but the reality is that so many people have been fed so many terrible misunderstandings for so long… it takes time and gentleness to help people to understand.
What response have you had to the video so far?
The reaction has actually been remarkable. We were worried about some sort of backlash on social media, perhaps from religious fanatics or people who have an agenda towards the LGBT community… but so far we have only heard words like 'beautiful' and 'amazing' being thrown around… So we are very happy about the reaction and positive about the future.
So do you see GoodLuck as allies of the LGBT community?
Yes, absolutely. Over the years we have had so much support of our music from the LGBT community.
The warmth and love that has been shown to us is inspiring. It might be a stereotype, but from our experience some of the best parties ever thrown have been by the LGBT community and electronic music always goes hand in hand with that. Some of the most amazing events and festivals we have ever performed at have been Pride events.
Would you like to say anything else about the video?
The way that we interpreted the song, which took it in a completely different direction from the original – really exposed the lyrics in a whole new way and that inspired us to look for a story that would capture that mood. I think it encapsulates exactly the feelings in the song and I hope it inspires people around the world to understand that love, in its beautiful, tragic and longingly cruel ways – is universal. There is no right or wrong, politically correct or religiously authentic way to love some one… you just do.