Major changes as Johannesburg Pride 2016 moves to Melrose Arch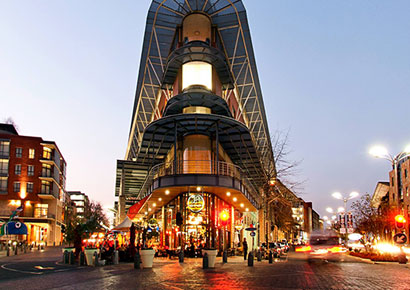 In a major development for South Africa's longest running LGBT Pride event, Johannesburg Pride 2016 will be held at the upmarket Melrose Arch precinct on Saturday 29 October.
"We are making changes to the entire format," said Pride's Kaye Ally. "We will have a shorter parade as we have found that people are more interested in staying at the event or coming later after the parade."
Among the changes, is that the event will only kick off at the Melrose Arch Piazza later in the day, at 2pm, with live music, drag acts, a fashion show and a bar.
While there will be community stalls, food will only be served from the restaurants in the area. After the parade, Pride will become a nighttime event, with a lineup of DJs.
"There are restaurants ATMs, plenty of parking, toilets, its safe and secure and you can even go shopping," Ally told Mambaonline. "The precinct caters for about 70,000 people and we are approaching businesses in Melrose Arch to support the event. We are aiming to create an LGBT village for the day."
There is no entry fee for Johannesburg Pride but, for those who want to splurge, there will be a "patron's lounge" (a paid for VIP area).
"Our colour this year is orange, which is the colour of healing," said Ally. "And our theme is #nofilter. The idea is for people to come and celebrate who they are without judgement. Come in any form that you like. It is a space for tolerance."
She further explained that, "this year there have been some terrible atrocities, such as Orlando, so we actually want to have a party to celebrate gay life".
Ally admitted that the choice of venue is always a controversial issue but argued that, "despite some concerns that Pride is in a more privileged area," there are simply too many challenges in hosting such a large event in locations like Zoo Lake or Mary Fitzgerald Square in the CBD.
"The costs of taking Pride there are astronomical. We have to bring in infrastructure and security to host an event like this. It's unaffordable for a non-profit organisation like Pride. Melrose Arch has modern amenities and facilities," she said.
"Plus, for me, the safety of Pride comes first. I'd rather take the backlash from a small minority and make sure that everyone is comfortable and safe."
Ally acknowledged complaints that people may not bring their own drinks in cooler boxes to the event but insists that this is beyond the organisers' control.
"We go through the right regulations and we are subject to the same scrutiny as any event and we cannot allow cooler boxes. It is not us being difficult, it is a legal matter. Public drinking is not allowed. People can only drink at premises that are licensed," insisted Ally.
"Change is never 100 percent accepted at first," she added. "Moving to Melrose Arch is a big change but we are catering to different generations, including the millennials and we have to entice them and make it relevant. We want something that is trendy and is along the lines of what other Prides are doing. I'm quite confident that this will pay off."
Johannesburg Pride was held at Zoo Lake from 2006 to 2012. After the controversial 1 in 9 protest of 2012 and the shock resignation of the board in 2013, it then, under Ally, moved to Sandton Sports Club (2013), Mushroom Farm Park (2014) and the Wanderers Rugby Field (2015).
What do you think of Johannesburg Pride being held at Melrose Arch this year? Tell us your thoughts below. (Any insulting, slanderous or offensive comments will be removed).