LGBT businesses contributed $1.7 trillion to the US economy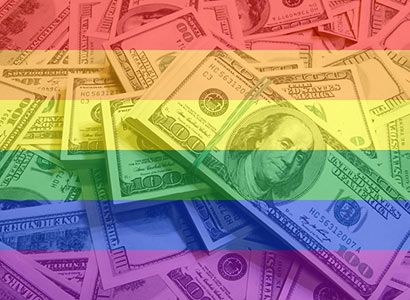 America's National Gay & Lesbian Chamber of Commerce (NGLCC) has for the first time revealed the impact of LGBT-owned businesses in the US – and it's massive!
On Wednesday, the NGLCC released the report America's LGBT Economy, which explores the types and sizes of LGBT-owned businesses it has certified, the number of jobs they create and their geography.
According to the study, in 2015, certified LGBT enterprises contributed over $1.15 billon to the US economy; if all LGBT business owners in America are considered, the figure is over $1.7 trillion.
The more than 900 LGBT enterprises certified by the NGLCC have created over 33,000 jobs in the US and have average revenue of $2,475,642 (with at least one reporting $180,000,000 in annual gross).
The study also found that the number of LGBT businesses owned by people of colour continues to increase annually—now at over 17%.
In addition, average LGBT enterprises have been in business at least 12 years— far above the national average, as some reports state nearly half of small businesses fail in their first five years.
"America's LGBT business owners are driving our economy upward and deserve every opportunity to keep creating jobs and innovating our industries," said NGLCC Co-Founder and President Justin Nelson.
"These numbers tell the real story," added Bob Witeck, President of Witeck Communications which served as the analyst for the report. "LGBT entrepreneurs find inspiration and freedom everywhere we look to create jobs and economic value in America. I think we are just scratching the surface of our potential."
As part of its services to LGBT business owners, the NGLCC is the only national organisation to offer certification to LGBT enterprises, giving them opportunities and visibility when it comes to corporations seeking to do business with LGBT suppliers.
Over a third of the Fortune 500, many top federal agencies, the Commonwealths of Massachusetts and Pennsylvania, major urban municipalities, and the Public Utilities Commission of California actively seek out certified LGBT businesses.
"At NGLCC, we have nearly 200 corporate and government partners that understand not only the value of the LGBT dollar, but the economics of inclusivity and LGBT visibility in their supply chain and marketplace as essential to a growing economy," explained NGLCC Co-Founder and CEO Chance Mitchell.
"This groundbreaking report proves our NGLCC philosophy that economic visibility, just like social visibility, is essential in building a diverse and inclusive society," he said.
In South Africa, the NGLCC has supported and advised efforts by The Other Foundation to create a similar South African LGBTI business chamber.
The initiative, which is ongoing, was launched at the International Gay & Lesbian Travel Association (IGLTA) Annual Convention in Cape Town in April 2016.