Not again! Same-sex couple say they were rejected by PE wedding venue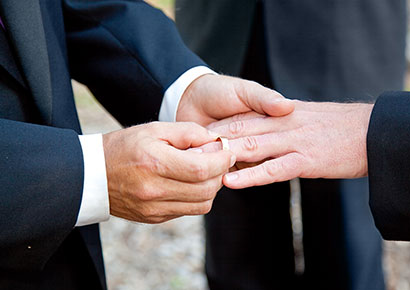 A gay couple claim that a top wedding venue in Port Elizabeth turned them away because of their sexual orientation.
The two men, who have asked not to be identified, reached out to Mambaonline about last month's incident. Paul* told us that he filled out an online enquiry form for Running Waters, one of a number of possible venues for their planned September wedding. "They were among our top five wedding venues," he said.
The couple of almost two years were in turn contacted by a representative via e-mail who sent them a series of wedding packages and arranged for a meeting to visit the venue on 25 February.
According to Paul, he and his fiancé arrived for the meeting and started chatting to the owner's father, who at one point asked in Afrikaans, "Where is the wife?" Paul replied: "There is no wife. This is my partner and we are getting married."
The older man then allegedly told the couple that Running Waters does not allow same-sex weddings on the premises, although the venue "does not have a problem with gay people". The man also reportedly urged them to respect this policy.
"I was dumbstruck. It was really humiliating," said Paul. "We walked out with our tails between our legs. You feel dirty, like you're not worthy of being there." He and his fiancé drove to another appointment at the next venue on their list in shocked silence. "My partner then said to me, 'What just happened to us?'"
Paul, who plans to use an independent pastor from Johannesburg for the wedding, asked why Running Waters does not state on their website or in their communication with potential clients that they do not cater to same-sex couples.
"I'm actually a member of the Dutch Reformed Church and when they made the ruling [in 2015] that same-sex couples could get married…[which was later overturned] it was a move in the right direction. And then you get something like this!"
Mambaonline contacted Running Waters and spoke to an Eben, who said he was the owner. He asked why this was a story worth reporting and refused to confirm or deny that the venue does not serve same-sex couples. Eben said that 98% of Paul's report was correct but was evasive as to what was incorrect.
He also failed to offer a reason for turning away Paul and his partner. Eben then said he would only talk further face to face and rejected the opportunity to respond to questions via e-mail. He further warned Mambaonline about writing about the incident. "Be very careful about what you guys post," he said.
Paul and his partner have since found another wedding venue that is keen on their business. "They are really accommodating and they don't blink an eye when you walk in. To them we're just like another couple."
Cameron Cordell, Acting Executive Director at the Port Elizabeth-based OUTology Network expressed his shock at the news. "We would like to offer our support to the couple and categorically state that we condemn the turning away of LGBTI couples from wedding venues," he said.
"We would also like to offer a sensitisation workshop to the venue to educate them on why what they [allegedly] did was discriminatory and wrong," added Cordell.
The issue of homophobic wedding venues turning away same-sex couples has been an ongoing problem since same-sex marriage became legal in South Africa in 2006.
Despite the likes of constitutional law expert Pierre De Vos stating that this discriminatory practice by private business owners is in fact "breaking the law," little action has been taken against these venues. De Vos has argued that the owners' personal beliefs should stay personal and cannot have any bearing on the services they provide to the public. (Read more here.)
The Equality Act prohibits the denial of services on the basis of sexual orientation. In April 2015, the Equality Court in Cape Town ruled that owners of guesthouses cannot use their religious beliefs to turn away gay customers. The same logic should apply when it comes to any other venues serving the public.
In 2012, the Sha-Mani venue in Alberton, Johannesburg was fined R20,000 by the Equality Court for discriminating against a lesbian couple but it simply shrugged off the penalty and continued to reject same-sex couples, as reported in August 2014. Despite numerous similar incidents involving a host of other homophobic wedding venues around the country, there has been little appetite to challenge this form of discrimination in the Equality Court.
*Not the alleged victim's real name