Male volleyball players end fight with a kiss (Watch)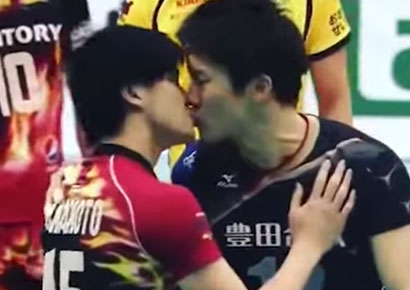 Testosterone-fueled disputes on the sportsfield are nothing new, but few fights end in a kiss instead of fists flying.
At a recent Japan Volleyball League game, two players Yu Yamamoto, 24, and Takuya Takamatsu, 29, got hot under the collar after a point was scored.
The men angrily exchanged words, apparently disputing the validity of the point and whether it was the result of a foul.
They then started pushing each other on the court. It seemed like it would all end badly, but to the surprise of the audience, the athletes unexpectedly made up with a quick smooch on the lips.
They smiled and got back into the game, with fans in the stands cheering them on. Takamatsu said after the scuffle that he "loves [Yamamoto] like a little brother".
The heart-warming kiss was dubbed an example of "the best sportsmanship ever", but it appears that this was not a once off for the two male volleyball players. It's been reported that Takamatsu and Yamamoto have previously exchanged an on-court kiss in an earlier game.
There have also been suggestions that it was all staged in good fun (perhaps this is their trademark?), but either way, we found it sweet.
Watch the moment of male-on-male affection below.