Alert! Gay joburg man ambushed and robbed on online date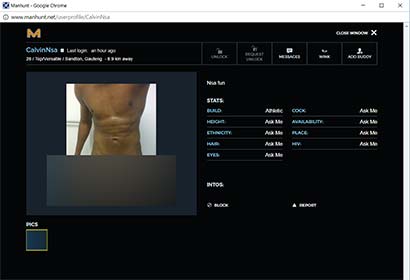 A Johannesburg man says he was abused and robbed after he arranged to meet another man through the gay dating site Manhunt.
The victim, who has asked not to be named, reached out to Mambaonline about the traumatic experience in a bid to warn others.
On Saturday, after chatting with the person behind the Manhunt profile "CalvinNSA" for a few hours, he made a date to meet. Around noon, he arrived at the apartment on Bourke Street in Pretoria. After going into his date's room, he was suddenly ambushed by five men.
"They told me to give them my bank card password, made me draw money out of my account and strip searched me. They kept my stuff for ransom until I paid them R1500 cash and asked for my iCloud logins."
The men kept him captive and threatened and abused him for about an hour, before finally letting him go. "I feel violated," he says. "I treat everyone the same never thinking that people are out to harm you or treat you badly if you're just a good person."
He adds that he is fearful that the men may continue to target him. "I have never been this anxious and paranoid as I don't know what information they gathered."
The victim has not reported the incident to the police because he does not believe his experience or his sexuality will be well received. He also believes that he is partly to blame for getting himself into the situation: "I just wasn't my usual streetwise self."
He did, however, contact Manhunt about the attack but was disappointed by the response. In an email sent to the victim, a customer service representative said that he was "sorry to hear that most unpleasant offline interaction with another member of the site".
Manhunt urged him to report the matter to the authorities and "if this person has violated any laws" it will "cooperate with them [the authorities] to the best of our ability".
Alarmingly the site did not offer to take down the profile and simply said that, "we'll make notes in his account and try to keep an eye on him as best we can".
Between 2010 and 2013, there were a series of robberies and murders of gay men in Gauteng, some suspected to have been initiated via gay dating sites or apps.
A number of cases remain unsolved, although three men were jailed in 2013 for killing Barney Van Heerden at his Johannesburg home in September 2011.
At the time, LGBT groups warned gay and bisexual men to be wary of whom they meet online. Here are some online dating safety tips to consider.